Philippines Seeks Portions of Bangladesh Heist Cash From Casinos
by and
Junket operator Kim Wong plans to return 450m pesos in a month

Anti-Money Laundering Council to file case against casinos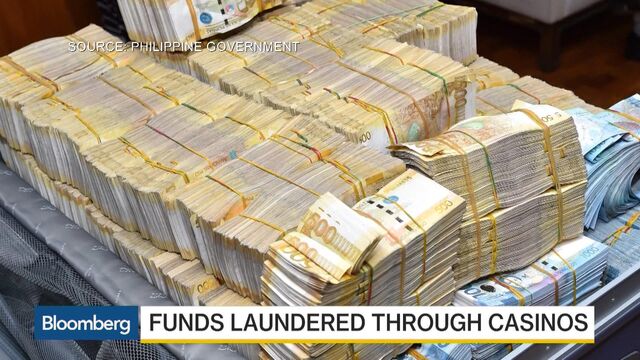 The Philippines will turn to the country's gaming industry to recover a part of the $81 million stolen from the Bangladesh central bank channeled through local casinos and gambled by a network of at least 19 people.
The Philippine Anti-Money Laundering Council will ask the courts to direct casinos and junket operators to recover and return as much of the stolen funds as possible to Bangladesh, Executive Director Julia Abad said at the Senate hearing on Tuesday.
"We have proof that the money was actually transferred to their accounts," Abad said, referring to the gaming operators.
Philippine casinos are in the spotlight for one of the largest bank heists in modern history, where thieves hacked into the Bangladesh Bank's account at the U.S. Federal Reserve, routed the funds to accounts at Rizal Commercial Banking Corp. and then laundered the money in at least two local gaming halls before the trail went cold. The Senate held its fourth hearing on the case that had riveted the Philippines.
The 19 players gambled for five weeks under two foreign junket operators at Solaire Resort & Casino, according to two reports its parent Bloomberry Resorts Corp. submitted to the Senate Blue Ribbon Committee and gaming regulator, which were seen by Bloomberg News. Silverio Benny J. Tan, compliance officer at Bloomberry, said in the reports casinos were made "a scapegoat in this unfortunate affair."
'Dirty Money'
Junket operator Kim Wong, who said he was an interpreter for two Chinese nationals linked to the stolen funds, said he received money that was for debt repayment. He pledged to return 450 million pesos of the funds within the month after turning over $5.46 million of what he characterized as "dirty money" to the Council in the past week.
When asked if gambling profits out of the stolen funds will be returned, lawyers for Bloomberry, Midas Hotel & Casino and two junket operators said they will ask their clients.
Bloomberry is willing to return the 108.7 million pesos it had frozen and confiscated from the 19 people who gambled the $30 million that its Solaire Resort & Casino received, compliance officer Tan told the Senate hearing.
Depicted as Victims
"The casinos seem to be washing their hands of this mess," said Benito Lim, a political science professor at the Ateneo de Manila University. "They're depicting themselves as victims. But the government must plug the law's loopholes by including casinos in the coverage of the Anti-Money Laundering Act."
Philrem Service Corp., a local remittance company that has said it either wired or handed over bundles of stolen cash to the casinos and their junket operators in February, denied it had pocketed as much as $18 million of the stolen funds.
"We delivered everything, no money is with us," Michael Bautista, treasurer of Philremm told the Senate hearing.
Before it's here, it's on the Bloomberg Terminal.
LEARN MORE