Japan Pension Fund's Bookworm Boss Is Unbowed by Topix Slump
by , , and
Takahashi joins GPIF after 35 years at an agricultural lender

Takes over as slumping equities seen spurring quarterly loss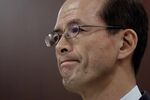 The new head of the world's biggest pension fund says you're more likely to find him in a Tokyo bookstore than at his desk agonizing over short-term market declines.
Norihiro Takahashi joined Japan's $1.3 trillion Government Pension Investment Fund as president on Friday after almost 35 years working at agricultural lender Norinchukin Bank. GPIF had previously hired lifers from the Bank of Japan for the top job; the 58-year-old is the first person to start the role with experience in asset management. With the slump in Japanese equities and a stronger yen likely to have caused a loss last quarter, he may face a fresh round of criticism that the retirement fund's investments are too risky.
"It's unavoidable that the GPIF's earnings are affected in the short term by economic situations," Takahashi said on Friday, when he also spoke of his love of literature. "In the long term, if we appropriately control risk we should be able to achieve sizable returns, and manage assets safely and efficiently."
Takahashi replaces Takahiro Mitani, who oversaw GPIF amid a radical overhaul that kept it firmly in the political spotlight. After Prime Minister Shinzo Abe swept to power in 2012 on a pledge to end deflation, the premier backed a review of the fund's investing strategy. That culminated in October 2014, when the retirement savings manager reduced its allocation to bonds by about half and doubled equities. GPIF has also started investing in alternative assets and sought to revamp governance.

Kazuhiko Ogata, chief Japan economist at Credit Agricole in Tokyo, said GPIF's foray into riskier assets has made the fund-management credentials of its head more important.
"It might have been fine to have people slide from the central bank to run GPIF when the portfolio was mostly made up of domestic bonds," but that's changed, Ogata said. "Mr. Takahashi has experience of portfolio management at Norinchukin, a huge financial institution. I'd assume that the government has high expectations of him. I think he's a good choice."
Takahashi's roles at Norinchukin included managing bond investments for a year through June 2006 before heading a project at the bank to create new financial instruments. He moved up the ranks to become managing director in 2011 before leaving last year to head a leasing firm in Tokyo.
Norinchukin is mostly an investment vehicle for Japan's farm co-operatives, and has most of its money in assets overseas. The bank piled into U.S. mortgage-backed securities before the global credit crisis, and had to ask members for a 1.9 trillion yen ($17 billion) capital injection in 2009 after posting a 572.1 billion yen loss.
Strong Capital
Things have improved since then. In March 2015, Norinchukin's equity capital buffer stood at 17.2 percent, one of the highest in the world. It was ranked the world's second-strongest bank last year by Bloomberg Markets magazine.
Norinchukin's investing approach has liquidity constraints that don't apply at GPIF, Takahashi said on Friday.
"At GPIF the fund flow is a lot more long term," he said. Still, "there are restrictions in our strategy that have their roots in Japanese citizens' consciousness."
GPIF earned 3.6 percent in the three months through December, after suffering its worst loss since at least 2008 in the prior period. Japan's Topix index is down 16 percent in 2016, the yen has strengthened more than 7 percent, and a gauge tracking global shares has slipped 0.7 percent, suggesting the fund will post another decline in the first quarter. Prime Minister Abe has been criticized in parliament by opposition party lawmakers who say the public's pension money is at risk of vanishing as stocks tumble.
Farming Background
Takahashi grew up in the northern prefecture of Nagano, where his parents came from farming families. He isn't well-known in Japan's investment community, and former colleagues at Norinchukin declined to talk to Bloomberg News when asked about him. A newspaper article about Takahashi online -- an interview with Nikkan Kogyo Shimbun Ltd. from earlier this year -- talks about his love of philosophy and novels where the protagonist's character develops though sports. He listed philosophers such as Karl Popper and Bertrand Russell among his favorites.
On Friday, Takahashi spoke of his love of visiting bookstores, and his admiration for merchants who've moved with the times and redesigned their shops to survive in a shrinking industry. He also professed to know a lot about fish, from his Norinchukin days. But he spent most of his time talking about GPIF and the accountability he feels toward Japan's current and future retirees.
"To be honest, I do think that I'm shouldering a heavy responsibility," he said. "We have to become an organization that can be trusted by the people of Japan."
Before it's here, it's on the Bloomberg Terminal.
LEARN MORE