Honda Fires, Collisions Prompt Sixth Major Recall for Fit
Masatsugu Horie
Company recalling 164,388 Fits cars after fire reports

Fit, Vezel models also recalled over power steering defect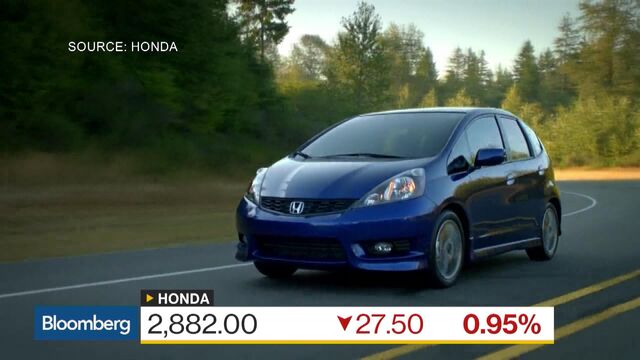 Honda Motor Co. will conduct at least the sixth round of major recalls involving its top-selling Fit compact in less than three years, as the Japanese automaker struggles to move past the quality woes that contributed to a change in chief executive officers.
The company will recall 164,388 Fit cars after reports of six fires related to an engine control systems flaw, according to a Japan transport ministry statement. Two reports of collisions are prompting a separate recall of 118,715 Fit cars and Vezel crossovers over a power steering defect.
Persistent recalls of the Fit and Vezel that first began in October 2013 were among quality woes that led former President Takanobu Ito to abandon a global sales target before resigning the position. His successor Takahiro Hachigo has reshuffled top management and consolidated responsibility for product planning and evaluation, ceding more control back to the company's overwhelmed research-and-development division.
Honda tried to introduce models optimized for disparate regions at a pace and scale that was beyond its means, Hachigo, 56, said in February. The company announced sweeping management changes, including the resignations of Chairman Fumihiko Ike and the CEO's second-in-command Tetsuo Iwamura.
The engine control system recall involves Honda Fits produced from August 2013 through February 2016, while the production period for the power steering recall ranges from August 2013 through August 2015.
Previous Fit and Vezel recalls in Japan include:
October 2013: Honda recalls 4,883 Fit cars over automatic transmission and control modules
December 2013: Extends production period of previous recall, boosting number of cars affected to 36,100 units
February 2014: Recalls 81,353 Fit, Vezel vehicles over engine control units
July 2014: Extends production period of Fit and Vezel recall, raising number of vehicles affected to 175,356
October 2014: Recalls 321,501 Fit and Vezel vehicles over engine ignition coils, power supply circuits


Honda's quality problems with new product introductions have continued into this year. The automaker recalled the 2016 Civic in February after 2-liter engines seized up in quality-control checks and in the field, resulting in a fire and one reported injury.
Before it's here, it's on the Bloomberg Terminal.
LEARN MORE