Greek Bonds Drop as IMF Says Deal on Additional Loans Is Far Off
by
Greek shorter-dated notes leading drop shows repayment concern

German 10-year yield reaches lowest level in a month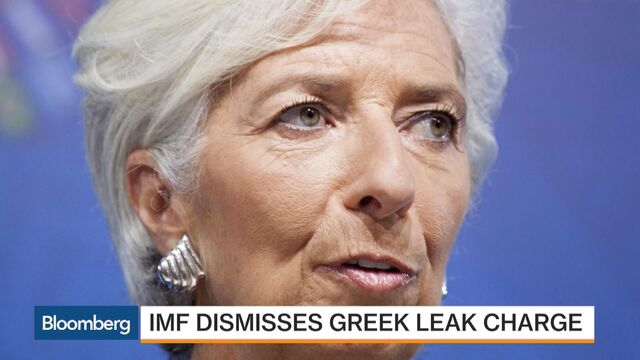 Greece's bonds fell, with shorter-dated yields rising the most in almost two months, as International Monetary Fund Managing Director Christine Lagarde said the organization is "a good distance away" from an agreement that would allow for additional loans to Europe's most-indebted state.
The extra yield, or spread, that investors demand for holding the nation's July 2017 securities instead of those due in a decade climbed to more than 200 basis points. The so-called inverted yield curve may signal that investors are more concerned about whether they get their cash back in the short term than the possibility of inflation eroding returns on debt with longer due dates.

The tension with the IMF comes as European officials monitoring the progress of debt negotiations say the nation could again face the threat of being pushed into default and out of the euro if the current bailout review drags on into June and July, when the country faces more than 10 billion euros ($11.4 billion) of debt repayments.
There was little sign of panic among the rest of Europe's higher-yielding bonds, with Portuguese and Spanish 10-year bond yields rising only about two basis points. Their bonds are being supported by the European Central Bank acquiring 80 billion euros of securities a month as part of its efforts to reignite inflation in the 19-nation currency bloc.
"Any noise out of Greece will be localized," said Orlando Green, a rates strategist at Credit Agricole SA's corporate and investment-banking unit in London. "It's going to be an ongoing theme over the next few months."

The yield on Greece's July 2017 securities increased 177 basis points to 10.69 percent as of 4:40 p.m. London time, the biggest jump since Feb. 9. The 3.375 security due July 2017 fell 1.895, or 18.95 euros per 1,000-euro face amount, to 91.635. Ten-year yields rose 36 basis points to 8.95 percent.
Yields on benchmark German 10-year bunds, perceived to be among the safest in the region, touched the lowest in more than a month. German 10-year bond yields were little changed at 0.13 percent, after falling to 0.12 percent, the lowest since March 1.
ECB Governing Council member Peter Praet said Monday that the institution will continue to act "forcefully" if needed to counter the risk of low euro-area inflation becoming entrenched.
Before it's here, it's on the Bloomberg Terminal.
LEARN MORE