Goldman Says Sell Asia Currencies After Best Rally Since '08
by
Predicts yen plunge to 130 per dollar, yuan at 7 in 12 months

Shorting won `best way' to position for Asia reversal: Trivedi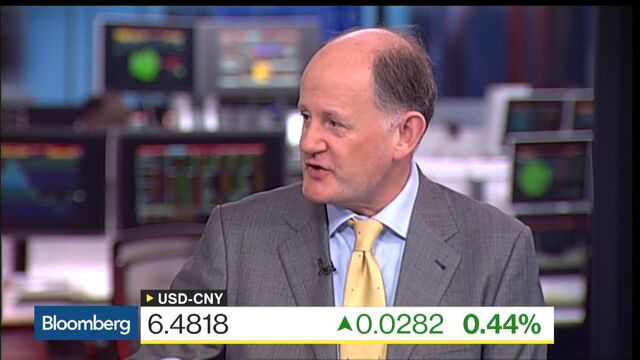 It's time to sell Asian currencies after their best monthly rally in more than seven years, according to Goldman Sachs Group Inc.
The currencies will resume declines as further easing in China and Japan is likely to push the yuan and yen to their weakest levels since at least 2008, says Kamakshya Trivedi, a strategist at the bank who correctly predicted in November that emerging markets would recover in 2016. South Korea's won led the March rally with an 8.2 percent advance and Malaysia's ringgit's 7.8 percent jump was its biggest since 1998. A gauge of 10 Asian currencies excluding the yen rose 3 percent.

"These are good levels to short Asian currencies, especially the won, baht, Taiwan dollar, yuan and ringgit," said Trivedi, Goldman's chief emerging-market macro strategist in London, in an interview. "There are very direct implications for emerging-market currencies in Asia from yuan moves. We forecast more weakness across this currency complex."
Developing-nation exchange rates completed their strongest month since at least 1999 as commodities rebounded and the dollar slumped on bets after the Federal Reserve signaled it will move slowly in raising U.S. interest rates. However, Asian exports are yet to recover, raising the prospects for a fresh wave of devaluations across the region as the yuan depreciates against China's trade partners and expectations mount for additional monetary stimulus in Japan, according to Trivedi.
Currency Forecasts
Goldman predicts a 14 percent plunge in the yen to 130 per dollar in the next 12 months, a level last seen in 2002, and a 7.4 percent drop in the yuan to 7 versus the greenback, which would be the weakest since May 2008. The won will decline almost 12 percent from current levels to 1,300 in the period, according to Trivedi, who recommends shorting the Korean currency as the best way to position for the projected reversal in Asian exchange rates.
Slowing economic growth and prospects of further rate cuts in South Korea make Asia's fourth-largest economy "a place where there are many ways to be right," he said.
Goldman's predictions for the yen, yuan and and the won are more bearish than most. The Japanese currency is forecast to weaken to 118 per dollar at the end of March 2017, its Chinese counterpart is seen at 6.7 versus the greenback in the same period and the South Korean won is projected at 1,218, according to the median estimates in separate Bloomberg surveys.
The yen rose 0.1 percent to 111.58 per dollar as of 10:20 a.m. in London and the won climbed 0.7 percent to 1,146.13 as investors maintained bets the Fed will proceed cautiously on raising rates. Markets in China are shut on Monday for a holiday.
Fed Outlook
At their March meeting, Fed policy officials forecast two rate increases this year, compared with four in their December estimates and three expected by Goldman. Futures contracts indicate a 62 percent probability the U.S. central bank will raise rates this year, with the most likely scenario being a single hike. There's still a risk policy makers will act faster as U.S. data improves, which would boost the dollar and derail recent rallies in the yuan and yen, Trivedi said.
While the yuan has advanced 0.45 percent versus the dollar this year, its nominal effective exchange rate has dropped the most in the region, according to Westpac Banking Corp.'s indexes. Even when the greenback rebounds, China would want to retain trade-weighted losses to boost exports and maintain loose monetary conditions amid slowing economic growth, according to Goldman.
"That means the yuan would weaken versus the dollar," Trivedi said. "If you see further depreciation of the yuan, either on a trade-weighted basis or versus the dollar, it does mean these economies whose exports have already been suffering quite a bit could see further pressure and require further depreciation to keep their exports on a firm footing."
Before it's here, it's on the Bloomberg Terminal.
LEARN MORE