business
Disney Executive's Exit Leads to Outside Hunt for Next CEO
By
Exit complicates efforts to find successor to Robert Iger

Staggs is said to have struggled to gain support of board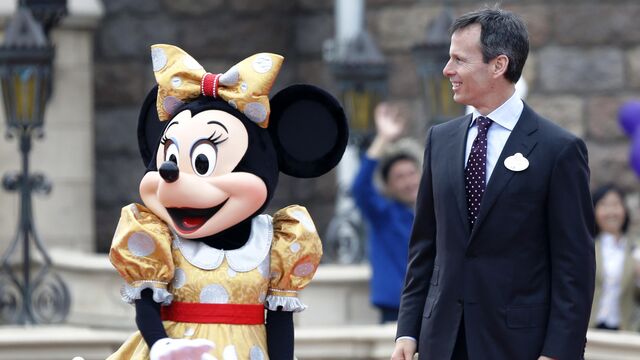 For years, Walt Disney Co. Chief Operating Officer Tom Staggs was being groomed to succeed Chairman and CEO Robert A. Iger at the world's largest entertainment company. Now those plans are off.
Staggs is stepping down from his role next month, a surprise move that forces Disney to look outside the company for its next chief executive officer. Whoever replaces Iger, a 65-year-old whose contract is up in June 2018, could be the first outsider to run the company since Michael Eisner in 1984.
"This adds a degree of uncertainty and risk to the Disney CEO succession plan that did not previously exist," Goldman Sachs & Co. analyst Drew Borst said in a note Tuesday. Borst has a neutral rating on the stock.

Disney shares fell 1.7 percent to $97.05 at 3:44 p.m. in New York Tuesday. They had dropped 6.1 percent this year.
Staggs, 55, had difficulty convincing some board members he was the right person to take over, according to a person with knowledge of the matter. He and Disney decided to part ways, said the person, who asked not to be identified discussing a personnel matter.

His exit from the succession picture comes at a particularly touchy time for Disney, which is grappling with tumult in its largest business -- television. Pay-TV audiences are embracing lower-cost options like Internet video services and so-called skinny cable bundles that threaten the industry's two key revenue sources: subscriptions and advertising sales. Those trends are unlikely to abate over the remainder of Iger's tenure or the beginning of his successor's.
Cable and broadcast television, led by Disney's highly profitable ESPN sports network, contributed 44 percent of company revenue last year and 53 percent of operating income.
Staggs, who was Disney's chief financial officer for 12 years, doesn't have operating experience in television, unlike Iger, who came up through the company's ABC division. As chief operating officer, he oversaw job cuts at ESPN.
Media Rout
Disney triggered a rout in media stocks in August 2015, when executives said on an earnings call that profit at ESPN won't grow as quickly as projected because of viewer losses. The network has lost 7 million subscribers in the past two years, according to data from Nielsen.
The company's parks and resorts division, which Staggs ran before becoming COO, has continued to flourish as the company approaches the June opening of its Shanghai resort, the company's biggest international investment. Profit at the parks increased 14 percent last year to $3.03 billion while revenue grew 7 percent to $16.2 billion.
Disney's movie business has also soared with hits like the new "Star Wars" film and a series of animated and live-action pictures, including superhero features based on Marvel comics.
Part of the reason Disney is likely to count on an outsider to succeed Iger is because all the other promising internal candidates have left. Staggs became chief operating officer in February 2015, winning a two-person race for the job with former Chief Financial Officer Jay Rasulo. Another possible Iger successor, former TV division co-chair Anne Sweeney, departed in January 2015.
Among the possible candidates being mentioned by outside observers are Sheryl Sandberg, Facebook Inc.'s chief operating officer and a Disney board member, and Steve Burke, a former Disney and ABC executive who now runs Comcast Corp.'s NBCUniversal division.
Staggs will remain employed by the company in the role of special adviser to Iger through the current fiscal year ending in September, Burbank, California-based Disney said in a statement Monday. No reason was given for his departure.
"It's shocking," said Laura Martin, an analyst at Needham & Co. "Tom was Wall Street's fair-haired boy. The market is going to be unhappy about this."
26-Year Veteran
A 26-year Disney veteran, Staggs rose through the ranks in a career that started in strategic planning before reaching the No. 2 spot. Disney said its board will broaden the scope of the succession planning process to identify a slate of candidates. Staggs didn't respond to a request for comment.

"Tom has been a great friend and trusted colleague for more than 20 years," Iger said in the statement. "He's made important contributions to this company, earning wide respect across the organization for his achievements and personal integrity."
Staggs's departure caps a year of personnel changes at Disney that include the dismissal of ABC entertainment chief Paul Lee in February amid falling ratings and the exit of consumer products co-chair Leslie Ferraro after just nine months in that role. Ferraro previously reported to Staggs when he ran the parks division.
— With assistance by Anousha Sakoui, Lucas Shaw, and Carol Hymowitz
(
Updates with potential outside CEO candidates in 13th paragraph.
)
Before it's here, it's on the Bloomberg Terminal.
LEARN MORE