Alaska Air Agrees to Buy Virgin America for $2.6 Billion
by , , and
Transaction boosts California presence, opens up New York

Deal follows `hard-fought battle' by JetBlue, Alaska CEO says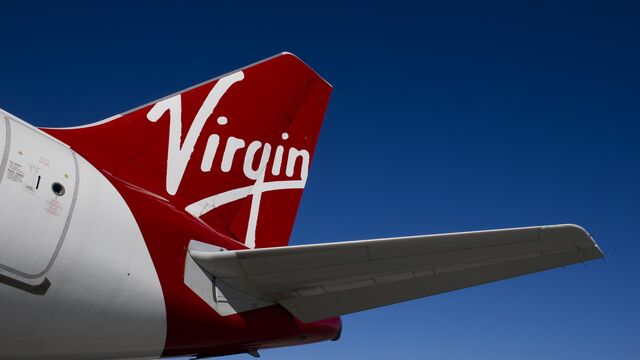 Alaska Air Group Inc. agreed to buy Virgin America Inc. for $2.6 billion, defying recent history by uniting two financially stable carriers and picking up access to valuable markets in California and key airports in New York and Washington.
Alaska Air, which first approached Virgin America about a deal last fall, had to overcome competition from JetBlue Airways Corp. to secure the deal. It will pay $57 a share for Virgin America stock, a 47 percent premium to its closing price April 1 and 86 percent above its value March 22, the day before Bloomberg News first reported a possible deal was in the works. The transaction is valued at about $4 billion including debt and capitalized aircraft operating leases, Seattle-based Alaska said Monday.

The acquisition extends a round of consolidation that has shrunk the number of carriers in the U.S. airline industry since 2005, and expands Alaska's service from the Pacific Northwest to tech-centric San Francisco and Los Angeles. It also gives the carrier access to the lucrative cross-country market.
"We felt it was perhaps a one-time opportunity to get a stronger foothold in California, something we felt was going to benefit us immediately, but also in the years and decades ahead," Alaska Chief Executive Officer Brad Tilden said on a conference call. Virgin America's presence in flight-constrained airports in New York and Washington also "is scarce real estate."
Virgin America, backed by U.K. billionaire Richard Branson, surged 42 percent to $55.08 at 11:47 a.m. in New York, reaching the highest level since its 2014 initial public offering. Alaska fell 5.2 percent to $77.77.
Anti-Competitor Premium
The deal was reached after a "hard-fought battle that was intensely competitive" after JetBlue decided to bid on Virgin America, Tilden said.
"They're paying an anti-competitor premium. That's clearly what this was about," said Mo Garfinkle, a consultant who has advised companies and investors in previous mergers. "It was clearly a way to keep JetBlue out of what they regard as their territory."
JetBlue entered the process in January and presented a final bid that was "fairly close to Alaska's, not significantly below it," Virgin America CEO David Cush said in an interview.
The price in the bidding hit a level where "organic growth offered a better path to create value for JetBlue, our shareholders and our crewmembers," the carrier said in a statement.
Strength in the U.S. airline industry following consolidation, the sector's return to profitability in 2010 and Alaska's own financial and operational might convinced the carrier that the time was right for a combination, Tilden said. Unlike in several recent mergers, neither Alaska nor Virgin America was in bankruptcy or had recently emerged from creditor protection at the time of the deal.
'Additional Mass'
"We certainly will not be at the size of the largest four, but the smaller guys are still doing quite well in this industry," Tilden said. "This acquisition does give us additional mass."
The deal will boost Alaska's revenue 27 percent to more than $7 billion and should produce $225 million of annual revenue gains and savings following integration costs of as much as $350 million, the carrier said in a statement. It's forecast to begin adding to earnings in the first full year, excluding those costs.
Alaska reported adjusted net income of $842 million for 2015, an increase of 47 percent from the previous year, while Virgin America posted a profit of $201 million.
Alaska's fleet will swell to 280 aircraft with Burlingame, California-based Virgin America's 60 Airbus Group SE A319s and A320s, and the combined entity will have 1,200 daily departures. The business will have hubs in San Francisco and Los Angeles, where Virgin adds east-west routes to Alaska's north-south strength, as well as in Seattle, Anchorage and Portland, Oregon.
"They complement our geography very well," Tilden said, adding that the goal is to be "the premier airline for people living on the West Coast."
New York Exposure
Virgin America will also enhance Alaska's access to East Coast airports where the number of flights are limited, including John F. Kennedy International Airport and LaGuardia in New York, and Ronald Reagan Washington National.
Cush, Virgin America's CEO, said in an e-mail to employees Monday that tying up with Alaska provides the combined business with a better chance of success against the backdrop of a changing industry, adding that his airline didn't seek out a merger.
The consolidation over the past decade has swept up five of the 10 biggest U.S. carriers, leaving the top four operators controlling 80 percent of the market.
Cush said he sees the sale closing in the "next several months." Tilden, who will lead the enlarged group, said it could be 18 months to two years before the Federal Aviation Administration grants a single operating certificate.
The Alaska Air brand will be retained, and the Alaska name will be applied to the group, based in Seattle. The company said it will explore with Branson's company how the Virgin America brand "could continue to serve a role in driving customer acquisition and loyalty."
Before it's here, it's on the Bloomberg Terminal.
LEARN MORE