China Tension, Crippling Drought to Test Vietnam's New Premier
by and
Dropping oil revenue and drought in rice region hurt economy

New leaders expected to continue closer relationship with U.S.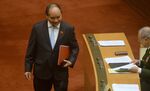 A crippling drought in the Mekong Delta rice bowl and slumping oil revenue are creating fresh headwinds for Vietnam as a new prime minister with less economic experience prepares to take over.
For Nguyen Xuan Phuc, a behind-the-scenes technocrat, the challenges facing the communist leadership have increased since he was nominated for premier at a twice-a-decade party congress in January.
Given territorial tensions with biggest trading partner China, and with the risk a sprawling Pacific trade pact becomes a casualty of election-year politics in the U.S., Phuc, 61, will need to move quickly to show he's committed to carrying out reforms and attracting investment, analysts said.
"They need to show Vietnam continues to be an attractive destination for foreign investment and a relevant economy in the region," said Nguyen Xuan Thanh, a Ho Chi Minh City-based senior fellow at Harvard's Kennedy School of Government. "They need to provide growth and job creation. A less than 7 percent growth will be very, very disappointing."
The National Assembly is expected to rubber-stamp Phuc's election on Thursday to replace Nguyen Tan Dung, who lost his bid to become party chief after Nguyen Phu Trong was re-elected to the post for a second five-year term. Phuc was not known for grand initiatives as vice premier, mostly overseeing a three-year campaign to streamline the bureaucracy, though he studied economics at the Singapore National University.
While Dung opened the economy to greater market forces and expanded ties with the U.S., Vietnam's former wartime foe, Phuc will be joined by other low-profile officials to head a government that tends toward collective rule.
"A lot of problems are awaiting Mr. Phuc," said Le Hong Hiep, a visiting fellow at the Institute of Southeast Asian Studies in Singapore. "He is untested."
Reaching Vietnam's 2016 economic growth target of 6.7 percent is the "biggest challenge" for the new government as drought and salinity hit agriculture production, National Assembly member Tran Hoang Ngan told legislators in a televised broadcast on Friday.

Vietnam's income from crude and agriculture production dropped in the first quarter, leading to slower gross domestic product growth of 5.46 percent versus 7.01 percent in the last quarter of 2015. State income from crude oil fell 54 percent amid a global drop in prices, according to the finance ministry.
While weaker growth could partly be seasonal, Vietnam was already grappling with a $2 billion budget deficit in the first quarter, while debt payments increased 5.3 percent. That means Phuc doesn't have the resources to implement significant economic stimulus if needed.
"The new government will have to deal with a lot of difficulties this year and the biggest challenge is how to boost economic growth," National Assembly Delegate Do Van Ve said.
China, which had two-way trade of about $67 billion with Vietnam in 2015, is facing its own slowdown, and the countries are squabbling over territory in the South China Sea, a major artery for global shipping.
Vietnam has repeatedly objected to China's construction of runways and other facilities on reclaimed reefs and islands in the Spratly and Paracel chains, and the tensions have drawn Vietnam further into the U.S.'s orbit. Trong met President Barack Obama in Washington last year and the U.S. has loosened some restrictions on the sale of weapons to the country.
Obama will visit Vietnam in May, the first trip by a sitting U.S. president since George W. Bush in 2006, and "we can expect the new leaders to look for ways to boost their ties with the United States to balance relations with an increasingly assertive China," said Murray Hiebert, a Washington-based senior fellow at the Center for Strategic and International.
Vietnam plans to approve the Trans-Pacific Partnership in July and stands to gain the most from the 12-nation pact being enacted with an 11 percent boost to GDP by 2025, according to the Eurasia Group. But the deal is coming under sharp criticism by U.S. presidential candidates and the failure of Congress to ratify it would be an economic blow to Vietnam given its reliance on foreign investment.
Vietnam's disbursed foreign direct investment could level out this year and decline in 2017 after new FDI commitments came in relatively flat in 2015, the Asian Development Bank said in a report released March 30. New foreign investment projects licensed last year dropped 0.4 percent from 2014.
The government, which knows it must embrace reforms to spur growth, is still concerned about changes that could weaken the party's influence over the economy, Thanh said.
"The challenge of the new leadership is how to maintain inclusive growth so the benefits are spread out and you have a rising middle class," he said. "But the middle class will demand accountability and gradual democracy. It's a delicate challenge: You don't want to repress the middle class but you also don't want the middle class demanding more democracy and accountability too aggressively."
Before it's here, it's on the Bloomberg Terminal.
LEARN MORE