One State Election Win Modi Needs to Revive India Momentum
by
In biggest test this year, Modi's BJP only has a shot in Assam

A win would add momentum to pass stalled economic reforms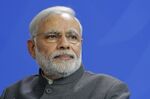 The bar for Prime Minister Narendra Modi in five state elections that kick off Monday is particularly low: A lone win in the small northeastern state of Assam would be considered a success.
His Bharatiya Janata Party currently doesn't hold power in any of the five states, which combined account for roughly 20 percent of India's 1.3 billion people. The only place where it has a shot at winning is Assam, which borders the Himalayan kingdom of Bhutan to the north and Bangladesh to the south. The other states are governed by entrenched regional parties, and the BJP has only small pockets of support.
"The BJP must win Assam, otherwise it will have a huge impact in terms of sentiment," Raj Kothari, a fixed-income trader at Sun Global Investments Ltd., said by phone from London. "If the results are not positive for Modi, then the outlook on India will realistically change. Investors' confidence level will drop."
A win in Assam is important for Modi to recapture some momentum after landslide defeats in Delhi and Bihar state elections last year. Local legislatures pick members of the federal upper house of parliament, where Modi's opponents have successfully blocked key reforms like a goods-and-services tax that aims to make India a single market.
The results of all the elections will be known on May 19. While the votes won't have much impact on the balance of power in the upper house, they are the main electoral test this year and will set the stage for bigger prizes up for grabs in 2016 -- including Uttar Pradesh, India's most-populous state.

Two opinion polls taken last week showed the BJP-led coalition leading all of its rivals in Assam, possibly with enough seats for a majority. In two other states -- West Bengal and Tamil Nadu -- polls showed regional incumbent parties set to win, while the southern state of Kerala may see the Communists oust the coalition led by the Congress party. A Congress-led coalition may win in Puducherry, a tiny former French colony on India's east coast.
"We will improve our positions in all the five states," Finance Minister Arun Jaitley told reporters on March 20. "Our alliance in Assam is at center-stage."
In Assam, Modi's party has one big thing going for it: The ruling Congress-led coalition has been in power for 15 straight years, and many voters are looking for a change.
"The BJP might win this time," said Govind Das, a 23 year-old taxi driver in Guwahati, the biggest city in Assam. "Only because after 15 years people may want to see the other party. Not because Congress hasn't done a good job."
Sealing the Border
Billboards of Modi and BJP party chief Amit Shah can be seen throughout Assam. BJP advertisements in the state highlighted financial irregularities of the Congress-led government, while the incumbents showcased the increasing number of farmer suicides in various parts of India where Modi's party holds power.
The BJP has also made an issue of illegal immigration, a perennial issue in Assam, which is divided on ethnic and linguistic lines. About a third of its population is Muslim, the second-most of any state in India after Jammu and Kashmir.
"We will seal the Bangladesh border and no infiltration will be able to step in here," Shah, the BJP president, said at a campaign rally in Assam last week. He accused Congress of using illegal migrants to boost its vote tallies.
With a poor performance in Assam, the BJP will suffer a blow in public perception even if expectations were already low in the other states, according to Ajoy Bose, a Delhi-based author and political analyst.
"The public doesn't look at where BJP is strong or weak," Bose said. "For them elections in five states are happening and the BJP has not got a single one."
Before it's here, it's on the Bloomberg Terminal.
LEARN MORE