Cameron Denies `Brexit' Referendum Is Splitting U.K. Government
By
Prime minister accuses media of over-excitement before vote

Opinium poll shows 43% support U.K. leaving European Union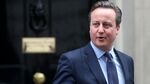 Prime Minister David Cameron denied that the U.K. referendum on European Union membership is splitting his government, after a Cabinet minister said a flagship policy would drive up immigration.
QuickTake Will Britain Leave the EU?
Accusing journalists of getting over-excited in their hunt for political rifts, Cameron was responding to Culture Secretary John Whittingdale's argument that the government's increase in the minimum wage would push up immigration unless the U.K. left the EU.
The prime minister was asked during a trip to Washington whether such comments breached rules that ministers shouldn't publicly criticize the government as the June 23 referendum nears.
"You all go around setting each others' hair on fire and getting very excited about this but it's all a lot of process-ology," Cameron said. "I can't see what the issue is."
The comments show how hard it will be for Cameron to unite the Conservative Party after the June 23 referendum. He went on to attack the arguments of government colleagues who are on the other side.
"I make absolutely no apology for challenging those who want to leave to set out what the alternative is because it changes all the time," he said. "One minute it's a Canada free-trade deal, then it's not a Canada free-trade deal, then it's an easy deal with the European single market, then it's not an easy deal with the single market. This is a really important decision for the future of our country, for our children and our grandchildren, and we've got to get it right."
Five members of Cameron's Cabinet, as well as London Mayor Boris Johnson, oppose Cameron and are campaigning for the U.K. to leave the EU. A sixth, Work and Pensions Secretary Iain Duncan Smith, quit last month.
An Opinium poll published in the Observer on Sunday showed 43 percent support leaving the EU while 39 percent want to stay. About 18 percent of voters are still undecided, it said.