BOJ Negative Rates Risk Destroying Loan Market as Freeze Deepens
by and
Call market activity at record low two months after shift

Central bank `destroys functioning markets:' Totan Research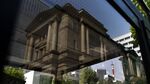 The freeze in Tokyo's market for overnight loans looks set to extend into a third month as the Bank of Japan's negative rate policy makes it harder for brokers to price and process transactions.
QuickTake Negative Interest Rates
Two months after the BOJ said it would start charging interest on some lenders' reserves, the outstanding balance in the interbank call market tumbled to a record low 2.97 trillion yen ($27 billion) on March 31, according to Tanshi Kyokai data going back to 1988. While the brokers association and the Japan Securities Depository Center said two weeks ago they had upgraded systems to settle transactions at sub-zero yields, traders say more than technical issues are preventing a revival.
"Among central banks, the BOJ is the one that destroys functioning markets the most," said Izuru Kato, the president of Totan Research Co. in Tokyo. "Companies will slash staff and scale back operations where activity is grinding to a halt, exposing markets to spikes in rates when the time comes for normalization."

The disruption to Japan's ground zero for bank funding coincides with a collapse in bond-market trading over the past year, even as the BOJ's hoarding of notes has left it nowhere near achieving its 2 percent inflation target three years after Haruhiko Kuroda became governor. When questioned by a lawmaker in parliament last month, Kuroda agreed that it would be theoretically possible to lower rates to minus 0.5 percent, from the current minus 0.1 percent.
Profits Hurt
Lenders are cutting back their use of overnight borrowing as they assess how negative rates will impact earnings for the fiscal year that started Friday. Standard & Poor's estimated in February that minus rates will erode the profitability of regional lenders by 15 percent and major banks by 8 percent.
Takashi Oyamada, president and chief executive officer of Bank of Tokyo-Mitsubishi UFJ Ltd., said last week that while there wouldn't be any major effect from negative rates in results for the year to March 31, 2016, business performance in the following 12 months would be impacted "significantly." Offsetting the effects of the BOJ policy over a single fiscal year would be a "considerable challenge," he said.
City banks' financing from the call market more than halved to 5 trillion yen in February from the previous month, plunging to the lowest since October 1983, according to BOJ data.
A properly functioning call market is essential to help calculate benchmark borrowing costs and estimate financing demand, Totan's Kato said. Moreover, the diminished role of the market would inhibit the smooth funding that will be needed to help limit volatility when the BOJ decides to tighten policy once inflation picks up, he said.
There is growing concern that the cost of negative yields will outweigh the benefits, said Tetsuya Inoue, a former BOJ official and the chief researcher for financial technology and markets at Nomura Research Institute Ltd. in Tokyo.
Bubble Risk


"Over the long run, the deteriorating profitability of financial institutions increases worry about the impact on the financial system's stability," Inoue said. "While financial institutions have adequate capital now, there is concern about what effect the continuing low-profitability environment may have on their health or ability to take risks."
Nobuyasu Atago, who also had worked at the BOJ and is now the chief economist at Okasan Securities Co., pointed out that instead of serving as a important source of cash for borrowers, the credit market has become a profit center for dealers looking to buy securities from investors and sell them to the central bank. While the strategy may be lucrative now, financial institutions face the risk of massive losses, he said.
"By making the trade with the BOJ the only source of profit, markets are exposed to unexpected volatility when that trade ends and the BOJ moves toward the exit," Atago said. "Markets are being destroyed."
Before it's here, it's on the Bloomberg Terminal.
LEARN MORE