Amtrak Resuming Service After Fatal Crash Slows Northeast Trains
by and
Engine struck backhoe on tracks south of Philadelphia

Regular service to operate on Monday with some delays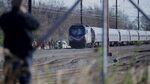 Amtrak said it will restore regular train service on Monday in the Northeast U.S., after disruptions from a crash that killed two railroad workers near Philadelphia on the nation's busiest passenger-rail corridor.
A train from New York to Savannah, Georgia, struck construction equipment on the tracks Sunday morning south of Philadelphia, forcing Amtrak to suspend operations between the city and Wilmington, Delaware. By the afternoon, the carrier resumed running some trains on the route as the U.S. National Transportation Safety Board dispatched a team to the scene. Regular service will resume Monday with some delays between Philadelphia and Wilmington, the railroad said on Twitter.
There were about 30 injuries, none life threatening, among the 341 passengers on Train 89, Amtrak spokesman Mike Tolbert said in an e-mail. The dead were the operator of an Amtrak backhoe and his supervisor, according to the office of Senator Charles Schumer of New York, who was briefed on the crash.
Amtrak's Northeast Corridor runs between Washington and Boston, and is the most heavily traveled stretch of tracks for the U.S. passenger railroad. Sunday's accident in Chester, Pennsylvania, marked at least Amtrak's second near Philadelphia in less than a year, after a derailment there in May killed eight passengers and injured dozens.
The main engine in Sunday's crash skipped the tracks after slamming into the backhoe, Amtrak said. Railroad accidents involving work crews have been a worsening problem in recent years and prompted the NTSB to issue a special report in 2014.
Before it's here, it's on the Bloomberg Terminal.
LEARN MORE