Zuckerman to Step Down From Boston Properties' Board Next Month
by
REIT's co-founder, 78, to be named chairman emeritus

Board nominates two new members for election at May 17 meeting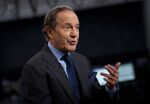 Mort Zuckerman, who co-founded Boston Properties Inc. in 1970 and has been its chairman since 1997, will leave the company's board next month following its annual election of trustees.
Zuckerman, 78, won't seek re-election at the company's annual meeting, Boston Properties, the biggest U.S. office real estate investment trust, said in a proxy filing Friday. In honor of his "long and dedicated service," Zuckerman will be named chairman emeritus and still be able to attend board meetings, according to a statement.
Zuckerman and co-founder Ed Linde were the guiding forces behind the growth of Boston Properties, whose holdings include the General Motors Building and former Citigroup Center in New York, Boston's Prudential Center and John Hancock Tower, and the Capital Gallery in Washington. In San Francisco, the REIT owns properties such as the Embarcadero Center and is building a skyscraper for Salesforce.com Inc.
The company has 46.5 million rentable square feet (4.3 million square meters) across 168 commercial properties, according to its annual report, also released Friday.
Zuckerman is also owner of the New York Daily News and U.S. News and World Report, and formerly owned the magazine Atlantic Monthly.
Boston Properties' board also nominated two new members, Karen Dykstra and Bruce Duncan, and said Ivan Seidenberg won't seek re-election at the May 17 meeting. Joel Klein will serve as lead independent director and assume leadership responsibilities for the board along with Chief Executive Officer Owen Thomas.
Before it's here, it's on the Bloomberg Terminal.
LEARN MORE