Surprise: A Single Indicator Explains the Federal Reserve's Reaction Function
The central bank may be more data dependent than we think.
by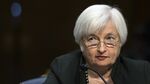 The Federal Reserve's decision to hike interest rates in December but abstain from further policy tightening in March has raised questions about the central bank's reaction function—that is, what prompts members of the Federal Open Market Committee to change their policy rate.
After all, both employment and inflation figures were running ahead of monetary policymakers' estimates at the time, yet not only did the Fed keep rates unchanged, but the median monetary policymaker also cut in half the estimate for how many rate hikes would be appropriate this year.
In a note to clients, Deutsche Bank AG Chief Global Strategist Binky Chadha delves into the nature of the central bank's "data dependence" to try to explain the Fed's reaction function.
The strategist suggests that economic surprises are what push monetary policymakers to deploy, maintain, or withdraw stimulus.
But it's clear the Fed doesn't (over)react to momentary gyrations in the data, Chadha notes.
Rather, the six-month moving average of Deutsche Bank's data surprise index does tend to predict the ensuing Fed action, meaning the central bank may be looking at enduring economic trends.

"Following downside growth surprises, responses included launches of QE2 [the Fed's second asset purchase program, known as quantitative easing], QE3, calendar rate guidance, postponements of rate normalization and most recently a lowering of the speed of prospective hikes," he wrote. "Following upside surprises, responses included a discussion of taper and eventually the first hike."
Economic surprise indexes have a tendency to revert to their mean. Typically, economists enter the year with a sunny outlook until a round of underwhelming economic data forces the pendulum to move too far toward outright pessimism.
At first blush, it's unclear why expectations of how economic data will unfold are more important than the actual evolution of said data—especially since private forecasters and the Fed can have differences of opinion.
But Chadha's explanation of the Fed's reaction function does help us reconcile how the central bank's data dependence and focus on financial markets inform policy, and it aligns well with Chair Janet Yellen's recent thoughts on the matter.
"Financial market participants appear to recognize the FOMC's data-dependent approach because incoming data surprises typically induce changes in market expectations about the likely future path of policy, resulting in movements in bond yields that act to buffer the economy from shocks," she said during a speech on Tuesday. "This mechanism serves as an important 'automatic stabilizer' for the economy." 
This mechanism the chair described doesn't always hold. During the QE era, we've had a number of instances in which it appeared as though good (economic) news was bad news for risk assets as market participants ratcheted down their expectations for further Fed stimulus.
But based on the upturn in the surprise index—further buoyed by March's nonfarm payrolls report—Chadha suggests that June is "likely for the next hike."
Before it's here, it's on the Bloomberg Terminal.
LEARN MORE