Mester Cautions Against Delaying Fed Rate Increases for Too Long
by
Cleveland Fed chief says impact of volatility limited so far

Waiting to tighten may risk disruptive market moves later on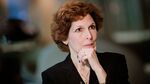 Federal Reserve Bank of Cleveland President Loretta Mester said she supported a decision to hold off from raising interest rates last month, while cautioning against waiting too long to resume tightening if the economic outlook stays on track.
Mester, a voter on the U.S. central bank's rate-setting Federal Open Market Committee this year, said in remarks prepared for a speech Friday in New York that policy makers weren't yet "behind the curve" with respect to tightening. Yet she said that "forestalling rate increases for too long in light of financial market volatility that doesn't affect the outlook may simply produce more volatility in the future if we find ourselves having to increase rates more aggressively than anticipated."
Her comments followed the Labor Department's report Friday that showed employers on net added 215,000 workers to payrolls in March, while the jobless rate ticked up to 5 percent from 4.9 percent as an improving economy pulled discouraged workers back into the labor market.
The Cleveland Fed chief said she reduced slightly her forecasts for how the U.S. economy would perform this year when she submitted updated projections ahead of last month's FOMC meeting.
"I anticipate that growth will pick up to a 2.25 to 2.5 percent range this year," Mester said. "That is slightly lower than my last forecast and reflects both the weakness we saw in the fourth quarter, which suggests that the economy entered 2016 with a little less momentum, and slightly tighter financial conditions, which partly reflect somewhat slower growth abroad."
Mester said that if the financial-market volatility the U.S. experienced earlier this year were to "intensify and be sustained, this could lead to a broader pullback in risk appetites among investors, businesses, and consumers, which could dampen the U.S. economy."
"I note, though, that even during the recent turbulence we did not see this," she said.
Before it's here, it's on the Bloomberg Terminal.
LEARN MORE