BlackBerry Phone Sales Drop Adds Urgency to Software Push
by
Quarterly revenue trails estimates on weak handset demand

`No. 1 goal' is to increase software, services, CEO Chen says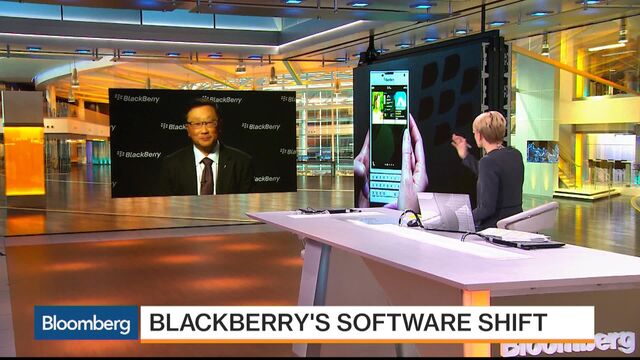 BlackBerry Ltd. posted sales that fell short of analysts' estimates on lackluster demand for a new handset, underscoring the urgency behind a shift away from devices to win more revenue from software.
Chief Executive Officer John Chen built a turnaround plan on acquiring security software companies and selling their products to businesses and governments. Though Chen insisted the hardware side of the business would reach profitability by September with the help of a new handset and selling smartphone applications, he admitted the Android-based Priv phone wasn't selling as well as he'd hoped.
"People do like our Priv, but there's a much more limited audience and that segment seems to be saturated at the moment," Chen said on a conference call. "The number-one goal that the company has is to continue to ramp the software and services."
Shares Fall
Total adjusted sales were $487 million in the fiscal fourth quarter, the Waterloo, Ontario-based company said in a statement Friday. That compared with analysts' average estimate of $561.8 million. BlackBerry's adjusted loss was 3 cents a share, excluding some items, narrower than the prediction for a loss of 10 cents.
The shares fell 7.7 percent to $7.46 at 3:00 p.m. in New York. They are down 20 percent so far this year.
BlackBerry is starting to see the benefits of its emphasis on software. The company reported $527 million in software sales for the 2016 fiscal year, higher than the $500 million target Chen set. BlackBerry forecast software revenue growth of 30 percent in fiscal 2017 and maintained its prediction to be profitable in the upcoming year.
"The future of the business lies in software, he can't say that more clearly," said John Butler, a senior analyst at Bloomberg Intelligence. "Handsets are a hit-driven business -- you need a hit device to really make things hum," he said. "It doesn't look like the Priv is going to deliver on that front."
BlackBerry's effort to switch its operating system to a phone running on Google's Android system last year hasn't resulted in a jump in hardware sales, which were 31 percent lower than the same quarter a year earlier. The company didn't say how many devices it sold in the quarter.
Still Believing
Chen confirmed the company is working on a new, lower-priced Android phone that will sell for around $350 and allow it to push out of the competitive high-end smartphone market.
"I still believe we have a shot at it, hopefully I'm not naive," he said of staying in the smartphone business.
BlackBerry needs to sell 3 million phones at an average price of $300 for the business to break even, Chen said. That means growing smartphone revenue to $900 million in fiscal 2017 from the roughly $870 million it was this year.
BlackBerry said it had a $192 million pretax charge related to restructuring and acquisition costs. The company has been cutting workers as Chen seeks to cut costs and move the company away from phones.
Before it's here, it's on the Bloomberg Terminal.
LEARN MORE