BHP Facing Billions in Disaster Payouts Boosts Brazil Staff
by
Senior executives deployed to speed settlement, restart mine

Staff increased to 30 from 8, and moved closer to dam site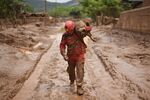 Facing the prospect of billions of dollars in damages and debt obligations after the Samarco mine disaster, BHP Billiton Ltd. has more than tripled its staffing in Brazil, adding two top executives to the mix to oversee a push to restart operations.
On Nov. 5, a dam filled with sludge from the mine burst, killing as many as 19 people and leaving hundreds homeless. If Samarco Mineracao SA, the BHP-Vale SA joint venture that ran the mine can't reopen it, the partnership won't be able to meet $1 billion in debt obligations due in 2022, or pay damages valued as high as 12 billion reais ($3.3 billion).
In that case, Brazil's Vale and Australia's BHP, the world's largest miner, would be required to pick up the cleanup bill. In an era of depressed commodity prices, BHP, whose stock has dipped 42 percent in 12 months, has already made deep cuts to its dividend and trimmed capital spending. That's raised the stakes to lessen the disaster's impact.
"Samarco is an important investment for BHP, and Brazil is important for us," said Dean Dalla Valle, BHP's chief commercial officer, who has relocated to Brazil, and vows to stay until the mine reopens. "The team numbers we have here now are a reflection of that."
30 Staffers
Before the dam collapse, Samarco was the world's second-largest producer of iron-ore pellets with an annualized output rate of about 30 million metric tons. Once the joint venture restarts operations, it plans to produce at a rate of about 19 million tons a year, Chief Executive Officer Roberto Carvalho said on a call last month. Samarco's 2022 bonds have risen to about 60 cents on the dollar from a low of 31 cents in January.
Funding for the cleanup and the debt obligations will be covered once operations resume at the mine, expected to reopen by the beginning of the fourth quarter, Carvalho said. In February, BHP said it has already taken a $1.2 billion pretax writedown related to the dam collapse.
In the past, BHP's Brazil operation included eight people based near the Rio de Janeiro beaches, hundreds of miles from where the inland iron ore mine is located. That's now been expanded to 30 people, including Dalla Valle and senior mining executive Flavio Bulcao, named as the company's new country director in December. Additionally, offices have been opened in Belo Horizonte, which is 70 miles from its Samarco interests.
Dramatic Television

The dam collapse was dramatic enough to draw television play worldwide, as billions of gallons of red sludge buried the small community of Bento Rodrigues, pitching a car on top of a house and polluting the Rio Doce river basin over a distance of about 600 kilometers (373 miles). As Samarco's only two shareholders, BHP and Vale were placed in the cross hairs of criticism.
BHP's increasing staffing hasn't quieted skeptics about their goals.
Local police and media have both issued reports suggesting Samarco's dam had a history of questionable integrity, and that the rupture may have resulted from the miner ramping up production levels. That's drawn fire from critics who say the company's two main shareholders, Melbourne-based BHP and Rio-based Vale, should have played a bigger role in in the plant's operation from the start.
"At the end of the day these organizations just show responsibility after being irresponsible," according to Alexandre Faria, a professor at Fundacao Getulio Vargas, the Brazilian school of public and business administration. Referring to the added staffing, he asked, "does it mean they were not around before?"
Brazil Critics
State environmental prosecutor Carlos Eduardo Ferreira Pinto, who has been critical of BHP and Vale's response and the eventual deal signed with the government, said the added staffing at this point is entirely motivated by the finances involved, coming after the two companies initially attempted to distance themselves from the event.
"They always placed Samarco at the front of the conversation," Pinto said in a telephone interview. "BHP and Vale showed their interest was in keeping Samarco alive so that they wouldn't be called to pay for the damages caused by their subsidiary."
On the March 2 agreement between the companies and Brazil President Dilma Rousseff, "you don't even know the size of the damage or the actual cost of the environmental damage," Pinto said. "The deal was done too quickly and only attends to the interests of the companies, not the people affected by the disaster."
President's Thanks
Dalla Valle, meanwhile, says he's aware that making everyone happy is not possible, but he believes BHP is making headway as it looks to the future. When Rousseff presided over the signing of the compensation deal aimed at rebuilding communities along the Rio Doce basin, she thanked Dalla Valle in her preamble.
Many unanswered questions remain. A pending criminal investigation into whether or not Samarco executives should be held responsible for the deaths remains open, and the deal struck with Rousseff hasn't been officially ratified by Belo Horizonte's federal court. A foundation that was to be set up to oversee environmental and community initiatives outlined in the agreement has yet to be formed.
Additionally, Samarco's recovery isn't a foregone conclusion even if the mine restarts, with iron-ore prices a deciding factor, Patrik Kauffmann, who helps manage $11 billion of assets at Solitaire Aquila Ltd. in Zurich, said earlier this month. While an index of the steel-making ingredient has rebounded 28 percent this year, it's still about a third of 2013 peak levels.
Dalla Valle concedes that much still needs to be done.
"Having the settlement agreement is an important step forward whilst the needs of the affected community are addressed," he said in a telephone interview. "Then we need to establish the foundation, have it up and running, and worry about the restart. I don't have any set departure date until each one of these priorities are taken care of."
Before it's here, it's on the Bloomberg Terminal.
LEARN MORE