Austria Seeks `Normal' Ties With Russia Through Oil and Music
by
President Fischer to meet Vladimir Putin in Moscow next week

OMV, Gazprom asset swap includes scientific, cultural deal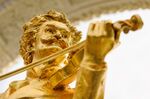 Austria, a neutral country whose executives plied both sides of the Iron Curtain even during the height of the Cold War, is advocating "normal" ties with Russia after 20 months of European Union sanctions against the country.
While the trade embargoes are in line with international law, "normal relations" should be the goal in the long term, Austrian Finance Minister Hans Joerg Schelling told reporters in St. Petersburg, Russia. He spoke on the eve of an agreement signed Friday between state-owned oil producer OMV AG and Russia's Gazprom PJSC to swap assets in Siberia and the North Sea.
Hours later, Austrian President Heinz Fischer announced he'll be travelling to Russia on April 5 to meet Vladimir Putin, his counterpart. Talks will include "bilateral trade, economic, cultural and humanitarian cooperation," according to the Kremlin. Fischer will be joined by Foreign Minister Sebastian Kurz and three other Austrian government members.
The actions show the challenges facing German Chancellor Angela Merkel to keep the EU united behind the sanctions imposed over Russia's involvement in the Ukrainian conflict. EU states including Austria must decide whether to renew the measures before they expire at the end of July. Merkel, along with French President Francois Hollande, said last month that the lifting of sanctions is tied to the full implementation of the Minsk peace accords signed in February 2015. She is also being challenged on the issue by Horst Seehofer, a member of her governing coalition who met Putin in Russia earlier this year.
Science, Music
Rainer Seele, who became OMV's chief executive officer last year after having already cooperated with Gazprom during previous appointments, is tapping into 48-year-old ties between the two companies as he seeks to breathe new life into the Austrian business. OMV is "very much open to extend our cooperation with Gazprom," Seele said in a January interview.
Apart from financial agreements, the deal with Gazprom includes scientific and cultural partnerships including sponsored musical concerts in St. Petersburg and Vienna, he said. "We don't only want to bring the two companies together, but also the two countries," Seele said.
Gazprom is committed to expanding the partnership "from upstream to supplies to end users," Alexey Miller, the state-owned company's chief executive officer, said at Friday's signing ceremony.
Putin last visited Austria in June 2014, a month before the EU agreed on economic sanctions. OMV and Gazprom were discussing the South Stream gas pipeline at the time, a project that Russia canceled later that year, citing EU opposition.
Before it's here, it's on the Bloomberg Terminal.
LEARN MORE