A Ride in Tesla's $35,000 Model 3: Musk's Master Plan Realized
by
Continual piece of glass enhances view behind back seats

Advance orders zoom from zero to 253,000, CEO says in tweet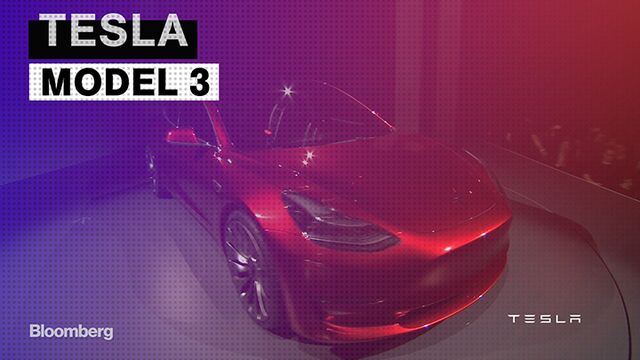 After Elon Musk unveiled Tesla's Model 3 sedan, guests got to ride in, but not drive, the car for roughly 5 to 10 minutes. The experience was almost a decade in the making since Musk first laid out his "master plan" to get butts into the seats of electric cars.
As soon as Tesla's chief executive officer finished speaking Thursday evening, guests at the 800-person unveiling event lined up for rides. Three passengers at a time climbed into each of the two sedans available for a spin.

The Model 3 seats five and gets at least 215 miles (346 km) per charge, a minimum Tesla hopes to exceed. It comes standard with autopilot hardware, but Musk didn't reveal all of the autonomous features that are in the works, and guests didn't get a chance to experience them on Thursday, when Tesla executives were at the wheel.
The Model 3 is smaller than the Model S, yet it feels spacious. Sitting in the back seat, the single piece of glass over the rear roof area gives the car the impression of expansive interior volume.
"Beautiful proportions, stunning crease lines, gorgeous details," Rebecca Lindland, an analyst with Kelley Blue Book, said in an e-mail. "It looks like a million bucks."
Speed, Handling
JB Straubel, Tesla's chief technology officer, told an audience at the University of Nevada at Reno in October that the Model 3 has new battery architecture, new motor technology, and a brand-new vehicle structure. Much of that wasn't visible to the initial test riders. What was noticeable was the car's ability to go 0-to-60 miles per hour in less than 6 seconds, and handle tight curves with ease. 
While the Model S has been famous in part for its 17-inch (43 cm) vertical touch screen, the Model 3's is smaller, at 15 inches, and is set horizontally.
Musk looked visibly happy Thursday night as he unveiled the Model 3. The car's introduction is a seminal moment for Tesla, part of a plan Musk first revealed in August 2006. Before showing the Model 3, he stressed the importance of accelerating the transition to sustainable transportation as the impacts of climate change become increasingly severe.
"Thank you to everyone that ordered the car," Musk said. "We love you!"
Hours after Musk's remarks, more than 134,000 orders had been received, exceeding the roughly 107,000 cars that Tesla has on the road worldwide. Musk tweeted updates into the weekend; by 7 a.m. California time Saturday he tweeted that orders had climbed to 253,000. Orders require a $1,000 deposit and are refundable if you cancel a reservation.
Before it's here, it's on the Bloomberg Terminal.
LEARN MORE