Why Mutual Funds Can't Agree on What Unicorns Are Worth
Picking the right number "is as much an art as it is a science."
By and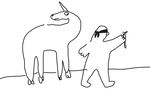 With hopes of getting in early on the next big initial public offering, managers at some of America's top mutual fund companies have plowed billions of dollars into Dropbox, Palantir Technologies, Snapchat, Uber Technologies, and other startups still in venture capital mode.
Now, after a year of volatile equity markets and a drop-off in IPO activity, fund companies are pulling back on making private deals. Even so, funds still have to update their estimates of what existing investments are worth. Their disclosures have become one way market watchers track the rising and falling fortunes of Silicon Valley's "unicorns"—private companies that have touched $1 billion or more in investor valuation. But putting a price on shares that aren't regularly traded is neither easy nor absolute.
"You can put three experts together and come up with three different answers," says Jeff Grabow, U.S. venture capital leader at consulting firm EY. "Valuation is as much an art as it is a science."
Consider the cloud storage company Dropbox. Five of its fund company shareholders had different valuations on 16 occasions, according to Bloomberg's analysis of securities filings. In December, T. Rowe Price set a value of $9.40 a share on its holdings. In the same month, Hartford Financial Services Group valued Dropbox 62 percent higher, at $15.20 a share.
A spokesman for T. Rowe Price said a lack of disclosure rules means some investors may have more information than others. A Hartford representative declined to comment.

Private companies are a small slice of mutual fund portfolios—T. Rowe Price, for example, says in total they will never make up more than 5 percent of any one of its funds. But how managers value them does affect fund investors. Each day a fund sets a share price for itself based on the underlying value of its assets. (For a public company, that's easy: Look at the stock quote.) If a mutual fund overvalues an asset, those who sell shares get a little too much money back, diluting the value of everyone else's investment. If the asset is undervalued, new investors get to buy shares at a little too low a price.
T. Rowe Price and Vanguard Group, another Dropbox investor, have special pricing review committees to look at their private shares. Vanguard, like Hartford, put Dropbox at $15.20 share in December. The committee at Vanguard takes into account the valuations used by outside money managers hired by its funds, plus other data including the price of similar companies already trading on the stock market. For Dropbox, publicly traded rival Box might make a good comparison.
"Where comps are available, that's great; where they're less available, it's a little heavier lift," says Glenn Booraem, controller of the Vanguard funds. "Our approach has been consistent over time. However, no two of these deals are identical in terms of the valuation process that we can apply."
It's likely that fund companies also keep an eye on how their peers value the same startups, says Jay Ritter, a former trustee at Vericimetry U.S. Small Cap Value Fund who teaches at the University of Florida. But money managers have limited information about their competitors' methodologies.
Valuation discrepancies also exist for WeWork, Snapchat, and others. In December, valuations of database software company MongoDB ranged from $8.06 a share to $18.55 a share.
Josh James, founder and chief executive officer of business analytics startup Domo, says announcements of fluctuating valuations can be distracting for employees. Domo's backers include BlackRock, T. Rowe Price, and Fidelity. In January, Fidelity marked down its valuation by 9 percent following a series of markups. Fidelity declined to comment on its process. "People that aren't experts at valuing private companies are trying to act like experts," James says. "Even when they have less information than the VCs."
—With Jef Feeley and Henry Trinh
The bottom line: Depending on which mutual fund you invested in, a share in Dropbox was worth about $10, or maybe $15.
(
Corrects to add a missing author and corrects Jeff Grabow's title in the third paragraph.
)
Before it's here, it's on the Bloomberg Terminal.
LEARN MORE