Why People Are Already Getting in Line for the Tesla Model 3
There's good reason for iPhone-style lines, even though cars won't be available for many months.
by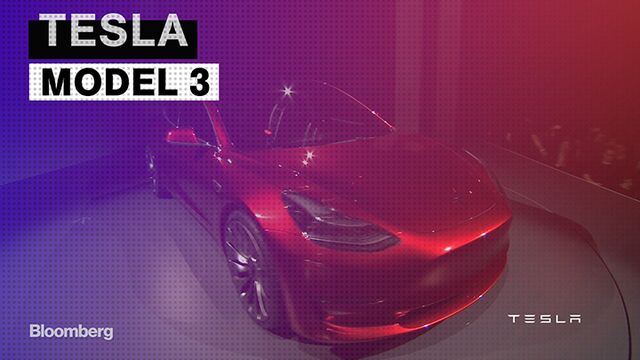 Tesla Motor Inc.'s first mass-production electric car, the Model 3, will be introduced on Thursday evening. But if you want one soon—and particularly if you want to have any hope of taking full advantage of government subsidies—you should probably get in line now.
This isn't a figure of speech. Eager Model 3 buyers can go join the queue at the nearest Tesla showroom, where starting Thursday morning you can put down a $1,000 deposit in person. Nevermind that no one has even seen the car yet and that the first delivery won't happen for at least another year.

It sounds ludicrous, but that's exactly what thousands of people around the world are going to do: Put down a $1,000 without so much as a test drive or a single review. Some analysts are anticipating more than 100,000 reservations in the next few weeks. People started camping out, iPhone-style, at several showrooms in California on Wednesday, and a man in Australia reportedly stood in line for 48 hours to be first to put down a deposit. This isn't to drive away with a shiny new Tesla; this is for a reservation to buy one many months in the future. 

There's a rational case for the frenzy. Early buyers might save as much as $7,500 off the $35,000 sticker price of the Model 3. The rush is on, in part, because a crucial U.S. federal tax credit set up to encourage development of electric cars is nearing its expiration. The tax credit's complicated phase-out begins for each carmaker several months after achieving a cumulative 200,000 in U.S. sales of electric cars. 1 Here's a hypothetical scenario to show how the subsidy is designed to expire. Say an automaker was to reach its 200,000th sale in the first quarter (Q1) of a calendar year. Two quarters later, the $7,500 subsidy would drop to $3,750 for the following two quarters of the company's sales (Q3-Q4). Then it would drop to $1,875 for two quarters (Q1-Q2 of the following year). Then: zero.  For Tesla, that threshold isn't far off.  
The chart below estimates the value of the declining subsidy over time. Using a simple sales growth rate of 50 percent for the projections, 2 For comparison, last year Tesla's sales grew 49 percent. Chevy's EV sales declined 18 percent in each of the last two years but will likely rebound with the release of the Bolt. Nissan, not shown, has more cumulative EV sales than Tesla at the moment, but sales declined 43 percent last year and the company hasn't yet announced a competing car for the long-range category of the Bolt and Model 3.    Tesla crosses the 200,000 mark around June 2018, and the subsidy begins to decline in October 2018. Chevy's EV sales, which have slumped the past few years after the company took an early lead, may speed up again with the anticipated release of the company's long-range electric Bolt later this year, but that shouldn't dramatically alter the timeline.  

Whether anyone will actually get the Model 3 for $25,000 will depend on Tesla getting it to market on time—and running on schedule isn't Tesla's strong suit. The company is notorious for yearslong delays of new products, from its original Roadster to the recent Model X. Morgan Stanley analyst Adam Jonas, a longtime proponent of buying Tesla shares, doesn't believe Tesla's Model 3 will hit the streets until late 2018, a year after Musk has promised it would appear. 
Reservations Start at the Showrooms, Then It Gets Tricky
Tesla will begin taking reservations for the Model 3 when showrooms around the world open at 10 a.m. Thursday, regardless of time zone. But the Australians who are the first to sign up might be some of the last to receive their cars. Instead, the rollout will start for priority groups in California and move east from there, eventually reaching buyers in Europe and Asia. People who drive on the left side of the road are last in line. 
To make matters worse for cash-strapped Tesla enthusiasts, the first cars off the production line won't be the sticker-price base model. The first to receive deliveries will include current owners of a Model S or Model X, Tesla employees, and buyers who select higher-priced options.
It's a complicated reservation system. Tesla says a reservation confers "approximate priority within your region." Morgan Stanley's Jonas anticipates an initial average price of delivered cars to be $60,000 before tax incentives.

In other words, if you want a $35,000 Model 3 any time soon, and especially if you want to qualify for U.S. incentives, you want to be as high on that list as possible. The $1,000 deposit is refundable at any time until Tesla is ready to build your car. Then they'll ask you to configure your car and sign a purchase agreement, or lose your (approximate) place in line. 
The Schedule for the Introduction of the Model 3
10 a.m. all time zones: Showrooms open and begin taking in-person reservations with a $1,000 refundable deposit. 
8:30 p.m. California time: The Model 3 event begins, streaming live from Hawthorne, Calif., on Tesla's website. 
8:30 p.m. California time: Simultaneously, the company begins accepting $1,000 reservations online. 
2017: Tesla begins contacting reservation holders to ask them to customize their car and lock in their purchase. 
Late 2017 and beyond: The rollout of new vehicles begins, and the world will learn if Elon Musk's massive bet on electric cars was a good one. 
Tesla's U.S. Stores and Galleries 

(
Corrects misspelling of Tesla in first paragraph.
)
Before it's here, it's on the Bloomberg Terminal.
LEARN MORE