SNB's Maechler Says Further Rate Cut Possible Despite Risks
by and
Central bank's negative deposit rate combats overvalued franc

Governing Board member Andrea Maechler speaks in Zurich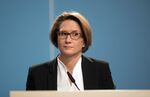 The Swiss National Bank won't rule out another interest rate cut, though any measure must be weighed with a view to its potential side effects, Governing Board Member Andrea Maechler said.
"We're always looking into other options, if needed -- we're looking into all of them," Maechler said at an event for financial professionals in Zurich on Thursday. "We're not excluding any of them, including a possible further reduction in the interest rate."
For more than a year the SNB has pursued a twin-pillar strategy of negative interest rates of minus 0.75 percent and a pledge to intervene in currency markets. Additional easing in the neighboring euro area has repeatedly sparked speculation among economists that the SNB may decide to lower rates further in a bid to maintain the interest rate differential. Analysts think the SNB could cut its deposit rate to as low as minus 1.25 percent if needed, according to Bloomberg's most recent monthly survey.
"We are aware and I think you are aware too that any further reduction in the interest rate would also cause undesirable side effects," Maechler said. "Therefore it will be very important to compare these side effects to the benefits."

Three-month Swiss Libor futures for June suggest a fixing 7 basis points below the mid-point of the minus 0.25 percent to minus 1.25 percent band that the SNB currently is targeting. This implies a 28 percent chance of a 25 basis point cut by that time.
The SNB is prepared to expand its balance sheet via interventions if the cost-benefit analysis was favorable, she also said.
At its most recent policy review on March 17 the SNB kept its deposit rate at a record low of minus 0.75 percent and repeated its pledge to intervene in currency markets. Citing a less favorable view of the global economy, it also lowered its prediction for Swiss growth this year to between 1 percent and 1.5 percent, from approximately 1.5 percent previously.
"Despite a slight depreciation, the Swiss franc is still significantly overvalued and this is reflected in economic activity," Maechler said, adding that it would be even stronger if the SNB hadn't introduced negative rates.
The franc traded at 1.09466 per euro at 11:31 a.m. in Zurich in Friday. The currency has depreciated 0.4 percent this year.
Before it's here, it's on the Bloomberg Terminal.
LEARN MORE