Samsung and LG Have a Battery Problem
China has cut subsidies for the Korean companies' models.
By and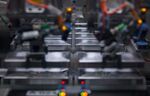 The days of Korean tech companies lagging behind their rivals in Japan are long over. From smartphones to advanced screens, subsidiaries of Samsung and LG have market share that Japanese brands such as Panasonic should envy. One notable exception is the batteries used to power electric vehicles. Panasonic makes 36 percent of them (it's partnered with Tesla), compared with less than 8 percent for LG Chem and 5 percent for Samsung SDI. That's becoming a bigger deal: Worldwide demand for electric vehicles swelled 87 percent last year, to 672,000, according to SNE Research.
To increase their share of the market, LG and Samsung have been counting on demand from China, which last year made up a third of the market for electric-vehicle batteries. The Chinese government says it'll reduce smog by putting 5 million EV cars and buses on the road by 2020. Both Korean companies have been making major investments in new production facilities in China, but a change in government policy threatens to upset their plans.
Buses are about half the EV market in China, and the government has suspended its once-generous consumer subsidies for EV buses using batteries like the ones Samsung and LG make—a combination of nickel, cobalt, and manganese (NCM). Subsidies will continue for less-advanced lithium-iron-phosphate (LFP) batteries, according to the state news agency, Xinhua. Samsung's battery unit, which last year opened an NCM battery factory in China and plans to invest $600 million there by 2020, said in a statement that the company is "considering various ways to respond." LG's battery unit declined to comment.
Hundreds of Chinese manufacturers are now making EV batteries, with mixed results. Last year there were at least six cases of electric vehicles catching fire on Chinese roads. The government can't afford to ignore the safety issues, says Paul Gao, a McKinsey senior partner in Hong Kong. "Most of the Chinese battery players still have difficulty mastering NCM," he says. "Chinese players are not able to provide consistent quality and reliability." By contrast, Gao says, they've enjoyed success with LFP batteries, which are heavier and less powerful.
Without government subsidies, which can account for as much as 40 percent of the price of an electric vehicle in China, models with NCM batteries will have more trouble finding buyers. A Chinese shift away from NCM could mean a 10 percent drop in LG's global battery sales, says Lee Dong-Wook, an analyst with HI Investment & Securities. Samsung should expect a 15 percent overall hit, says Kim Ji-San, an analyst with Kiwoom Securities. Panasonic is much less exposed, with less than 1 percent of its EV battery sales coming from China, says Simon Yu, managing director at SNE Research.
Pushing local battery producers to make their NCM designs safer should also help them become more competitive against foreign companies, says Mark Newman, a senior analyst with Bernstein Research in Hong Kong. The suspension of subsidies "is very clearly a political step from China to give the domestic battery makers a chance to catch up," Newman says.
The battery subsidies have already become a diplomatic issue between China and South Korea, threatening to overshadow the bilateral free-trade agreement the countries implemented last year. On March 19, Korea's trade ministry said the Chinese government has agreed to consider a request to continue subsidizing NCM batteries. Chun Taekmo, a chief fund manager of Hyundai Investments, says there's reason to believe China will relent, given how much more efficient a well-made NCM battery is, compared with its LFP counterpart.
Even if China does renew the subsidies, Samsung and LG have good reason to worry that the government may find other ways to promote local rivals. While the batteries of companies such as BYD—No. 2 in global market share behind Panasonic—aren't as advanced, Chinese technology companies have proved they can quickly make up that kind of ground. "The Korean manufacturers are very wary," says I-Chun Hsiao, an analyst with Bloomberg New Energy Finance in Tokyo. "What they are very afraid of is something similar to what happened in the solar industry, when within two or three years the Chinese caught up and Japanese and Koreans have gone bankrupt or lost market share."
The bottom line: China's suspension of subsidies for Samsung and LG's type of electric-vehicle batteries could mean double-digit sales drops.
Before it's here, it's on the Bloomberg Terminal.
LEARN MORE