Osborne Fights U.K. Counterfeiters With Redesigned 1-Pound Coin
by
Introduction planned in March 2017 of two-colored piece

As much as 3 percent of pound coins were counterfeit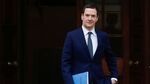 Britain's Royal Mint stepped up its fight against counterfeiters with a timetable for the introduction of a new 1-pound ($1.44) piece, claimed by George Osborne to be the world's most secure coin in circulation.

The U.K. chancellor of the exchequer announced on Thursday that production of the denomination has now begun at a rate exceeding 4,000 a minute. The new coin, designed by a schoolboy who was 15 at the time, is 12-sided rather than a simple circle, and features two metals instead of the plain brass of the current pound.
The move is a fightback against a bout of forgery that resulted in as much as 3 percent of the circulation of pound coins -- or 45 million specimens -- being counterfeit in recent years, the Treasury said in a statement. The new pound will be introduced in March 2017 and there will then be a changeover period of about six months when both the current and future coins will be valid.
"The Royal Mint are now producing the most secure circulating coin anywhere in the world," Osborne said. "With ground-breaking technology, developed in Wales, the new coin will help secure our economy and get rid of counterfeits."
Before it's here, it's on the Bloomberg Terminal.
LEARN MORE