Ola, Uber's Rival in India, Debuts Improved Wi-Fi to Get More Riders
by
Ola, India's dominant ride-hailing startup, will make it easier for passengers to access the Internet while driving to their destinations, seeking to lure more customers away from Uber Technologies Inc.
Both car-booking services already offer free Wi-Fi as a way to encourage people to take trips—a key incentive in a country where Internet access is still very limited and people spend a lot of time stuck in traffic. With Ola's new service, users won't have to log on each time they take a ride, said Ankit Bhati, co-founder and chief technology officer.
"It's a global first and will tackle the problem of a broken public Internet experience and long commute times in Indian cities," Bhati said.
Ola and Uber are locked in a battle for customers in India as ride-hailing services become more popular. Last week, Uber sued Ola, accusing the Bangalore-based company of using fake accounts and bookings to interfere with its business. Ola has teamed up car-booking startups Didi Kuaidi, Lyft and Grab in an alliance to try and ward off an Uber incursion in Asia. 
Ola's Wi-Fi service debuted Thursday for its high-end Prime cars and will roll out in 102 cities, and to more vehicles, including three-wheeled auto rickshaws "very soon," he said.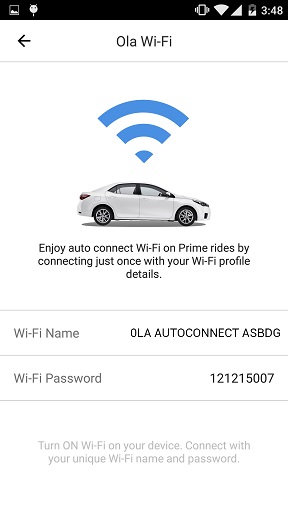 Passengers spend an average of 40 minutes per ride in traffic-clogged Indian cities, and the Wi-Fi service will give people a way to access the Web just like they do at home and work, said Raghuvesh Sarup, Ola's chief marketing officer.
Eventually, individual cabs will connect with each other to deliver better and more seamless Internet connectivity. Ola sees the service as a public internet project, similar to Google's free Wi-Fi at India's biggest train stations.
"It can evolve into a peer-to-peer network where the possibilities for offering additional services are endless," Bhati said.
Before it's here, it's on the Bloomberg Terminal.
LEARN MORE