Modi Moves to Plug India's Biggest Data Hole: Job Statistics
by and
Sample size in revamped employment survey to expand fivefold

`Our data will be much more authentic,' top bureaucrat says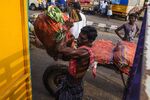 The biggest hole in India's economic data is starting to shrink.
Prime Minister Narendra Modi's government plans to publish a revamped quarterly employment survey in July to better assess how many jobs are created in Asia's third-largest economy, Shankar Aggarwal, the top bureaucrat in the Ministry of Labor and Employment, said in New Delhi. The sample for the report will increase fivefold to about 10,000 respondents and include 18 sectors of activity, up from eight now, he said.
"Our data will be much more authentic," Aggarwal said in an interview on Wednesday.
The new report will give both economists and policy makers a more reliable tool to assess whether the world's fastest-growing major economy is adding enough jobs for its burgeoning youth, a key Modi campaign promise. While the survey's usual six-month lag fails to address India's lack of real-time employment data, the broader scope adds to recent efforts to modernize the country's policy arsenal with revised gross domestic product calculations and an inflation target.

"If the sample size of this database is increased, certainly not only me, but other people will also start taking these data seriously," said Devendra Kumar Pant, chief economist at India Ratings and Research Pvt., the local unit of Fitch Ratings. "The volatility will reduce, the fluctuations will smoothen out -- so the more, the merrier."
The improved report would complement a planned high-frequency jobless rate from the Centre for Monitoring Indian Economy Pvt., a private research company. Together they would help central bank Governor Raghuram Rajan predict whether the economy is close to overheating as he tries to hit a 5 percent inflation target by March 2017. Rajan has said he would add employment to the mix of indicators he uses to guide interest rates if there was a good series.
In its current form, the employment survey shows a labor market that's trudging along rather than booming. The eight industries covered added a combined 134,000 positions in the quarter through September from the previous three months, according to the report published last month. That's less than in the corresponding periods of 2013 and 2014.
Falling Exports
Most of the jobs came from non-exporters, with only 31,000 positions added by businesses that sell goods overseas. Exports have dropped for 15 straight months.
"Demand has gone down all over the world, so India is also a part of that," Aggarwal said. "However, as compared with other countries, India is in the best position."
At the same time, a global survey of hiring expectations by ManpowerGroup Inc. ranks India as the most active labor market among a sampling of 42 countries, while an index by local jobs portal naukri.com shows an 18 percent increase in hiring activity in February from a year earlier.
The initial labor survey was started in the wake of the global financial crisis. While the sectors include leather, automobiles and metals, not all are equally represented. The textile and handloom sector, for instance, accounted for more than 40 percent of the 1,932 respondents in the last report.
While seven federal agencies publish labor-related reports, none are timely enough to seriously affect policy. Widespread informal employment also makes it tough to measure workers. And even with 10,000 respondents, the sample will pale in comparison with the roughly 146,000 participants in the U.S. non-farm payroll survey.
Before it's here, it's on the Bloomberg Terminal.
LEARN MORE