Modi Breaks March Jinx as India Bond Yield Drops Most Since 1999
by
Twenty-eight of 29 economists predict a rate cut next week

Rupee completes biggest monthly gain since September 2013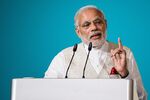 Indian sovereign bonds capped their best March in 17 years after Prime Minister Narendra Modi's budget restraint and slower inflation boosted odds of monetary easing by the central bank.
Reserve Bank of India Governor Raghuram Rajan will cut the benchmark repurchase rate by 25 basis points to 6.50 percent at the April 5 meeting, according to 26 of 29 economists in a Bloomberg survey. Two predict a cut to 6.25 percent while one sees no change. Foreign holdings of rupee-denominated government and corporate debt rose 8 billion rupees ($121 million) this month after falling 87.6 billion rupees in February, the most since April 2014.
March proved to be the worst month for Indian sovereign bonds in the last decade. This year, the Federal Reserve's decision to scale back expectations for the path of interest-rate increases added fuel to the rally sparked by the government's Feb. 29 budget resolve to narrow the fiscal deficit to a nine-year low. India's best-performing debt-fund managers are predicting more bond gains after data showed consumer prices in February increased 5.18 percent from a year earlier, the least in four months.
"All-in-all, March has been a month where Indian assets have performed handsomely on capital inflows as well as an improvement in the domestic outlook," said Badrish Kulhalli, a fixed-income fund manager at HDFC Standard Life Insurance Co. in Mumbai. "All eyes are now set on the RBI's policy review."

The yield on notes due January 2026 has dropped 17 basis points this month, according to the prices from the central bank's trading system, the most for a benchmark 10-year security in any March since 1999. Ten-year yields climbed an average 18 basis points in the last 10 March months, data compiled by Bloomberg show. The yield on the 2026 debt fell four basis points to 7.46 percent in Mumbai on Thursday. Local bond and currency markets will be shut Friday as lenders close accounts for the fiscal year ending today.
The rupee strengthened 3.3 percent in March, the most since September 2013. The currency, which rose 0.2 percent to close at 66.2475 a dollar on Thursday, is down 0.1 percent this year in Asia's worst performance.
Rajan lowered the repo rate by 125 basis points in 2015, with the last move being in September. He said last month he would assess price gains and the budget before the next rate decision as he looks to hit a 5 percent inflation target by March 2017. A further reduction in borrowing costs would help bolster Asia's third-biggest economy, Finance Minister Arun Jaitley said in an interview with Bloomberg TV in Sydney on Wednesday.
Before it's here, it's on the Bloomberg Terminal.
LEARN MORE