McCrory Stunned by Republican Primary Amid North Carolina's Boom
by and
State's economy at odds with Trump's fiery stump speeches

Support for eventual Republican nominee could cost McCrory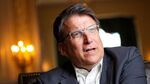 As governor of North Carolina, which has gained the most economic ground over the past three years of any U.S. state, Republican Pat McCrory has been shocked by the results of his party's presidential primaries. 
Instead of tapping any of a half dozen experienced stewards from other statehouses, such as Florida's Jeb Bush or Wisconsin's Scott Walker, who were initially in the running, voters have catapulted Donald Trump to Republican presidential front-runner. The billionaire businessman and reality television star attracted a following by raging against trade deals and immigration, stoking frustration over the loss of well-paying American manufacturing jobs to other countries. 
"I am stunned that a governor has not done better" in the primaries, McCrory said in an interview last week at the Executive Mansion in Raleigh.
Trump and Senator Bernie Sanders, who is challenging former Secretary of State and New York Senator Hillary Clinton for the Democratic nomination, are tapping into "small-town pockets that were decimated for the last 20 or 30 years," McCrory said. "Now a lot of those men and women are baby boomers who go, 'I don't know what my future is anymore,' and they have nothing to fall back on on."
Relative Success
North Carolina's relative economic success may help explain McCrory's surprise that voters have been attracted by Trump's fiery rhetoric. The Tar Heel state is the nation's ninth-largest with a population of more than 10 million, overtaking Michigan and New Jersey since 2000.
Its economic health has improved faster than any other state's, according to data compiled by Bloomberg based on employment, personal income, home prices, mortgage delinquency, tax revenue and the value of corporate equity. It ranked second behind Oregon during the first three quarters of 2015. That's up from 13th place since the fourth quarter of 2013 and 19th since the end of 2012.
While the North Carolina's 5.5 percent unemployment rate remains above the national average of 4.9 percent, it's now less than half of the record-high 11.3 percent reached in the first quarter of 2010, in the aftermath of the worst recession since the Great Depression. The drop in joblessness over the past six years is a clear signal that North Carolina's economic performance began to improve before McCrory took office in 2013.
Wages, Stocks
Still, wage growth is accelerating, and shares from companies headquartered in the state have gained 49 percent since 2013, outperforming the Russell 3000 Index.
Despite his shock at the vote so far, McCrory has pledged to support the eventual party nominee. Trump won North Carolina's March 15 Republican primary, earning about 40 percent of the vote, according to the State Board of Elections. Texas Senator Ted Cruz came in second with 37 percent.
"I've got to respect the process, and I respect the people that vote in the process," he said. "We've got to respect those people that are giving us that feedback."
That support could cost McCrory as he runs for re-election this November. North Carolina Senator Richard Burr, who also faces re-election this year, pledged similar support for the Republican party's presidential nominee. Voters say they are less likely to vote for Burr by a 26-point margin if he supports Trump for president, according to a survey by Raleigh-based, left-leaning Public Policy Polling conducted March 18 to 20.
Upcoming Vote
The poll "shows the way Donald Trump could make life harder for other Republican candidates down ballot this fall," the group said in a statement. It's "a good early indicator of the trouble Trump poses for his party."
North Carolina was a swing state in the past two presidential elections. It narrowly voted for President Barack Obama in 2008 and gave his opponent Mitt Romney a slim victory in 2012. That's when McCrory became the first mayor of Charlotte to be elected the state's chief executive.
The state remains the fourth-largest in manufacturing output in the U.S. as of 2014, and McCrory said he's a "big believer" in diversifying its economy further. He cited biopharmaceutical services company Quintiles Transnational Holdings Inc., software-maker Red Hat Inc. and tobacco-product manufacturer Reynolds American Inc. as some of state's corporate stars.
Civil Rights
However, hours after meeting with Bloomberg News last week, McCrory signed a law preventing local governments from extending civil rights protections to gay and transgender people, which could make the task of luring other companies to the state more difficult. The law prompted protests from American Airlines, Apple, Duke University, IBM, Facebook, Google, Lowe's, Microsoft, the National Basketball Association and Wells Fargo. San Francisco Mayor Ed Lee last week forbid city employees from visiting North Carolina on any public business, while New York Governor Andrew Cuomo similarly banned all non-essential state travel to the area.
"At Red Hat we strongly value diversity," tweeted Chief Executive Officer Jim Whitehurst. The law "is a clear step backwards. Sad day."
Roy Cooper, the state's attorney general and McCrory's Democratic challenger in the governor's race this fall, voiced his disapproval in a video posted on Facebook. "That North Carolina is putting discrimination into the law is shameful," he said. "Not only does this hurt North Carolina families, but it hurts our economy as well."
Graham Walker, McCrory's press secretary, did not respond to requests for comment from the governor about possible economic consequences of the law.
Before it's here, it's on the Bloomberg Terminal.
LEARN MORE