Lula in Limbo Isolates Brazil's Rousseff in Her Moment of Need
by and
Supreme Court review limits his ability to prevent her ouster

Former president helping her, but without `an official title'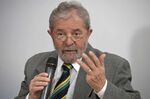 Former Brazilian President Luiz Inacio Lula da Silva's return to full-time politics has hit a roadblock just when his successor, Dilma Rousseff, needs him the most.
The president's attempt to bring Lula, 70, into her cabinet as chief of staff two weeks ago is stalled after a judge temporarily suspended the appointment. The Supreme Court since then has been reviewing the decision, leaving Lula in a state of political limbo that has hamstrung his efforts to build support in Congress for the administration.
The timing couldn't be worse for Rousseff, who is trying to survive an impeachment vote that's expected to occur in mid- to late-April. Unable to fully take advantage of his strong ties with legislators, Lula is leaving his hand-picked successor increasingly isolated as her support in Congress crumbles.
"He's a warrior who's lost his weapons," said Gabriel Petrus, a political analyst in Brasilia at business consulting firm Barral M Jorge.
Lula's inability so far to rescue Rousseff is a major reversal for a politician who left office with an 83 percent public approval rating, the highest among Brazil's elected presidents of the past three decades.
Waning Popularity
The former president's popularity has since taken a hit as he moves to the center of a sweeping corruption probe. Federal police briefly detained him for questioning in early March, and within a week prosecutors charged him with hiding assets from authorities. The Supreme Court on Thursday upheld an injunction to suspend the investigation until the country's lead prosecutor can study the evidence, though it hasn't set a date to decide whether Lula can join Rousseff's cabinet.
Lula has repeatedly denied wrongdoing and says the probes are part of a smear campaign. Rousseff rejects allegations that she nominated Lula to her administration to shield him from prosecution, as cabinet members in Brazil have special legal protection. "Let's be frank here: Lula strengthens my government," she said the day before a federal judge blocked his appointment.
The former president is still actively supporting the administration, "but without an official title," according to Jose Chrispiniano, a spokesman for the Sao Paulo-based Lula Institute, which was founded by the former president.
Informal Meetings
While his legal problems haven't prevented him from holding informal meetings with Rousseff's cabinet members and legislators, Lula's influence has waned. Earlier this week, the biggest party in Congress split from Rousseff's coalition just two days after Lula held talks with its leader, Michel Temer. Temer is also the country's vice president.
Lula still commands support among members of the ruling Workers' Party and has helped the administration rally thousands of backers in anti-impeachment demonstrations, including marches in almost every state in the country on Thursday. He remains the top-rated Brazilian president, though those who say he was the best leader in history have fallen by more than half in the past five years, according to Sao Paulo-based polling company Datafolha.
The allure of Lula stemmed from his ascent to the presidency from a childhood in poverty. His up-by-the-bootstraps story and Brazil's economic boom during his tenure raised his notoriety abroad: In 2010 he topped Time Magazine's list of the world's most influential leaders, ahead of U.S. President Barack Obama.
Rousseff's Recession
Lula's public approval ratings when he left office dwarf those of Rousseff. She's presided over an economy that slowed in her first term and entered a recession in the second.

To save her from impeachment, the former president is now focused on preventing smaller parties from abandoning the coalition, according to analysts at political consulting firm Eurasia Group including Christopher Garman, Joao Augusto de Castro Neves and Cameron Combs. Lula is helping Rousseff in negotiations to offer party members jobs in her government in exchange for their backing against impeachment. It's unlikely he will succeed in getting the votes Rousseff needs to avoid impeachment, they wrote in a research note Thursday.
"The overture doesn't come as much of a surprise, and is not a game changer," according to the analysts. "We continue to believe the lower house will vote to remove Rousseff."
Before it's here, it's on the Bloomberg Terminal.
LEARN MORE