Venture Capital
Kleiner Perkins's John Doerr to Step Aside From New Venture Funds, Become Chair
A change at the storied venture capital firm could usher in an accelerated transition to a new generation of investors.
by and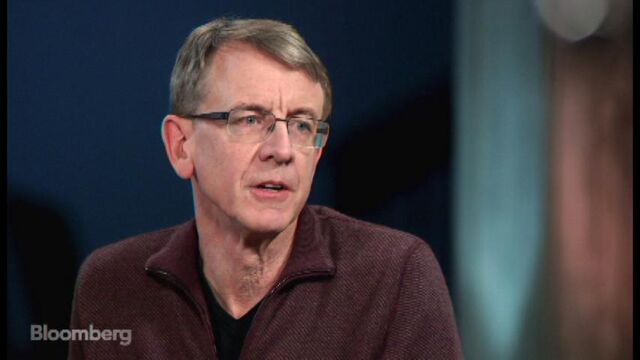 Venture capitalist John Doerr, 64, will step away from some management duties at his firm, Kleiner Perkins Caufield & Byers, to become its first chair. Doerr will continue investing money from the firm's current funds but will not participate as a general partner in future funds, accelerating a transition to a new generation of investors.
Doerr, the highly influential investor who made an early bet on Amazon.com Inc. and is a veteran board member at Google parent Alphabet Inc., joined Kleiner Perkins in 1980. He said he decided to begin his transition to chair after a meeting with top Silicon Valley corporate coach Bill Campbell.
Doerr will handle less day-to-day management of the firm but will remain active in his current investments, he said. Doerr, who has a net worth of about $2.5 billion, according to the Bloomberg Billionaires Index, will spend more time mentoring founders, partners at the firm, and the next crop of investors. While he won't be a general partner on new funds, Doerr will still advocate for and sponsor new investments across the firm.
In an interview, Doerr said the move is part of a "generation transition" at the firm. "My longer-term plans are to work as part of the Kleiner team until I'm voted off the island," he said. "I expect to continue to invest and find amazing entrepreneurs, but I'm also going to have more time to look over the horizon and see trends and especially to develop the next generation of founders at Kleiner."
Doerr's move mirrors the changing of the guard at other firms. Michael Moritz became chairman at Sequoia Capital in 2012. Tim Draper hasn't been listed as a general partner on his firm Draper Fisher Jurvetson's recent funds. Doerr wrote in a blog post that he's looking to Kleiner Perkins's tenured partners—Ted Schlein, Beth Seidenberg, and Mary Meeker—to lead the firm with newer managing members, including Mike Abbott, Eric Feng, Wen Hsieh, and Mood Rowghani.
Besides Amazon, Kleiner Perkins had a string of hits in the 1990s with early investments in Netscape, Compaq, and Google. But in the 2000s, the firm focused more on clean-tech companies and was late to recognize the potential of such recent blockbusters as Uber Technologies Inc. and some other on-demand companies.
Kleiner Perkins was thrust into the spotlight last year, when it was sued for gender discrimination by Ellen Pao, a former partner who had been a Doerr protégée. The trial, in which a jury ruled in favor of the firm on all counts, received intense public scrutiny.
Doerr said he thought Sequoia, with Moritz as chairman, had done a good job making the transition to a new generation at the firm. Sequoia has faced scrutiny, however, for its lack of a female investment partner in the U.S. and for a legal dispute involving Michael Goguen, a longtime investment partner who left the firm this month.
Doerr said the venture capital industry "is in a pathetic place" in terms of diversity. Doerr said diversity is "incredibly important" to him and Kleiner Perkins, "not just as a matter of social justice," but because it improves a firm's performance.
Before it's here, it's on the Bloomberg Terminal.
LEARN MORE