Foxconn May Be Overpaying for Sharp Even With $890 Million Cut
by , , and
Company valued at premium compared with electronics peers

Deal terms may still change while Sharp seeks turnaround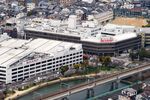 Foxconn Technology Group Chairman Terry Gou pushed the negotiations for Sharp Corp. near the breaking point as he slashed about 100 billion yen ($890 million) off the price worked out just a month ago. Even so, he may still be paying a premium for the money-losing electronics maker.
Under terms of the deal announced Wednesday, the parent of Hon Hai Precision Industry Co. is spending 389 billion yen for common and preferred shares, giving it a stake in Sharp of at least 66 percent. It's paying 88 yen per share for common stock, a 35 percent discount to the closing price yesterday.
Still, the deal -- just counting common shares and assumed debt -- gives Sharp an enterprise value of 16.3 times trailing 12-month earnings before interest, taxes, depreciation and amortization, according to data compiled by Bloomberg. That compares with the median valuation of 12.1 times in takeovers of electronics makers globally over the past three years, the data show.
"A can of worms at a discount is still a can of worms," Alberto Moel, a technology analyst at Sanford C. Bernstein & Co., wrote in a report on Thursday. "Given Sharp's current profitability and balance sheet, and the execution restrictions placed on Hon Hai to effect a turnaround, Hon Hai is likely overpaying for the transaction."
Under the Hood
Sharp has been losing money for years and its financial woes set off the battle between Foxconn and Innovation Network Corp. of Japan. over competing rescue plans. Sharp said yesterday that it now sees an operating loss of 170 billion yen for the fiscal year ending on Thursday, reversing an earlier forecast for a profit of 10 billion yen. The new outlook was issued at the same time the deal was announced, indicating that Foxconn factored that into its decision.
Now Gou faces the challenge of turning around Sharp, which has a sprawl of operations that make glass panels for mobile devices, appliances and solar equipment. But he may have limited his ability to restructure or sell business units. Foxconn pledged its "strong commitment" to respect the Osaka-based company's operational independence, retain existing employees and maintain unified operation of its subsidiaries.
Foxconn didn't respond to an e-mailed request for comment.
Price Tag
Foxconn's total payments in the deal will probably increase too. Under the agreement a month ago, the company had said it would spend an additional 100 billion yen to acquire preferred stock from Sharp's main banks. Neither side discussed that transaction in Wednesday's announcements. People familiar with the matter said last week that Foxconn would buy the shares, but delay payment. Toyodo Uemura, a spokesman for Sharp, declined to comment.
The agreement also includes a new clause giving Foxconn a backup plan that would let it buy Sharp's display business if the deal falls apart anytime before Oct. 5. If that happens, Sharp will give Foxconn, or a third party designated by Foxconn, exclusive negotiation rights for three months to buy the unit.
"It's possible that the deal terms may still change," said Naoki Fujiwara, chief fund manager at Shinkin Asset Management Co. "They'll change depending on conditions. If things become difficult for Foxconn, they'll have to take steps to survive -- and if there aren't synergies they will have to supply more funding."
Still, when looking at Sharp's sales, Foxconn's agreement could be seen as a better deal. The takeover values Sharp at 0.36 times trailing 12-month revenue, according to data compiled by Bloomberg. That compares with the median valuation of 0.81 times in takeovers of electronics makers globally over the past three years, the data show.
"It's a bit expensive," said Toshiyuki Mitsuzawa, head of cross-border mergers & acquisitions at Frontier Management Inc., "But the price shows how much Foxconn wanted Sharp, and particularly their display business."
Before it's here, it's on the Bloomberg Terminal.
LEARN MORE