Corporate Sentiment in Japan Slumps to Near Three-Year Low
by
Optimism among businesses is waning as the yen strengthens

Companies are paring their plans for capital expenditure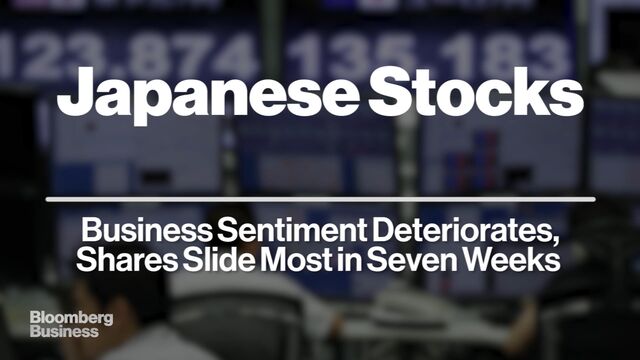 Sentiment among Japan's large manufacturers dropped to the lowest level since mid-2013 as a stronger yen risks eroding company profits, undermining efforts to spur a recovery in the world's third-largest economy.
The Tankan index of confidence among large manufacturers stood at 6 in March, the Bank of Japan said Friday, declining from 12 three months ago. A positive number means there are more optimists than pessimists among manufacturers. Economists had forecast 8 in a Bloomberg survey.
The drop in sentiment of large employers suggests business investment and wage growth will remain tepid, underscoring the challenges faced by BOJ Governor Haruhiko Kuroda and Prime Minister Shinzo Abe. Abe is front-loading budget spending while Kuroda has added a negative rate to his monetary policy arsenal.
"There are no signs we're going to get any help from the corporate sector in the near term," said Izumi Devalier, a Japan economist at HSBC Holdings Plc in Hong Kong, citing today's Tankan report and a subdued round of spring wage increases. The likelihood of the Bank of Japan expanding stimulus on April 28 is "pretty high," she said.

Confidence among large non-manufacturers fell to 22 from 25 in December, according to the report. Japan's big companies across all industries plan to pare capital spending by 0.9 percent for the year starting in April.
Japanese companies tend to be conservative in their capital spending plans in Tankan surveys in March., though they typically end up increasing investment projections later in the year.
Large manufacturers based their plans on an assumption that the yen will average 117.46 per dollar over the next 12 months. The currency has strengthened 6.9 percent against the dollar so far this year, raising the cost of imported goods and reducing revenue from abroad.
The yen strengthened after the Tankan report, trading at 112.07 at 11:07 a.m. in Tokyo. The Topix stock index slipped for a fourth day, tumbling 2.8 percent -- and heading for its worst day since Feb. 12.
Growth Risk
"The report makes it clear that the weakness in shares and gains in the yen have hurt business confidence," said Junko Nishioka, chief economist for Japan at Sumitomo Mitsui Banking Corp. "Japan's economy will probably have a small contraction this quarter."
Meanwhile, there are signs of strength in non-manufacturing sectors, which are more domestically focused and don't rely as much on the currency for profits. The index for large construction firms rose 4 points to 45, amid improvement seen by large and small real estate firms. Large retailers' sentiment stood at 18, down 4 points from December.
Large service providers to businesses were seemingly unaffected by the decline in overall business sentiment, with that index rising 1 point to 21.
Barclays Plc projects Japan's annualized gross domestic product will have shrunk 0.1 percent for the January-March quarter after it contracted 1.1 percent in the final three months of 2015. Kyohei Morita, Barclays' chief economist for Japan, expects the BOJ will expand monetary stimulus in July though says there is a possibility of further easing in April.
Abe is considering another economic stimulus package ahead of elections this summer, public broadcaster NHK reported Wednesday. Kuroda has said it may take some time to see the impact of the negative rate policy adopted in January but that it will end up helping boost the economy and prices.
Wages Stagnate
Toyota Motor Corp., Japan's biggest company, decided to pare a monthly base salary increase to 1,500 yen ($13) this year from 4,000 yen as company president Akio Toyoda said "the tide has turned." Panasonic Corp. and Hitachi Ltd. also are lowering profit forecasts and reducing the amount of base salary increases for their workers.
These moves come despite separate data from the BOJ that show Japanese companies and households had record amounts of cash on hand at the end of December.
Japan's capital spending remains 40 percent below its peak in 2007 and the index of real wages last year fell to the lowest level at least since 1990, according to government reports.
"I keep saying that Japan's recovery will pick up the pace gradually but I have to say I'm starting to doubt it as uncertainties mount for companies and households," said Hiroshi Hanada, the head of economic research at Sumitomo Mitsui Trust Bank. "It's getting harder to find a bright spot."
Before it's here, it's on the Bloomberg Terminal.
LEARN MORE