Canada GDP Grows Most in 3 Years With Manufacturing Surge
Josh Wingrove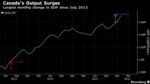 Canada posted the strongest monthly gain in three years in January, driven by manufacturing, in a signal the nation's economy may finally be emerging from an oil shock.
The country's gross domestic product rose 0.6 percent from December, Statistics Canada reported Thursday in Ottawa, doubling median forecasts. It was the fourth consecutive month of growth and the longest string of gains since oil prices began cratering.
Growth was driven by manufacturing, which accounted for one-third of the total expansion. Manufacturing grew 1.9 percent from the previous month, while durable manufacturing industries grew 2.6 percent with notable gains in auto manufacturing, among other sectors. Industrial production rose 1.6 percent from December and machinery manufacturing declined.
"It's a very positive report, through and through," with broad-based growth across a number of sectors, said David Tulk, head of global macro strategy at Toronto-Dominion Bank. The figures are "clearly well ahead" of the growth forecasts from the Bank of Canada, he said. "It basically leaves the bank very comfortably on hold."
Canada's currency extended gains on the data, appreciating to the strongest since October. The loonie advanced 0.5 percent to C$1.2899 per U.S. dollar 8:41 a.m. in Toronto. Bond yields also increased.
Debut Budget
The figures were released nine days after Prime Minister Justin Trudeau revealed his debut budget, one that includes nearly C$120 billion ($92.5 billion) in deficits over six years in a bid to spur growth.
Trudeau and Finance Minister Bill Morneau rejected calls for further stimulus as the country coped with slumping commodity prices. Bank of Canada Governor Stephen Poloz held off on changing the country's key lending rate in January and again in March as he waited to see the fiscal measures unveiled by Trudeau. Poloz's next interest rate decision is April 13.
The January growth figures, meanwhile, show a Canadian economy on the rebound, with year-over-year growth at 1.5 percent. The 0.6 percent monthly gain was the largest since July of 2013, and it was the first time since 2014 that the economy grew for four consecutive months.
The median forecast from 21 economists surveyed by Bloomberg was for growth of 0.3 percent.
Energy, Mining
Oil and gas grew 1.4 percent -- also the fourth consecutive month of growth for the sector -- largely on the strength of oil-sands extraction, Statistics Canada reported. Mining and quarrying, meanwhile, decreased 1.1 percent in January after a decline in copper, nickel, lead and zinc mining, Statistics Canada reported.
The utilities sector rose 2.7 percent after a decline of
2.5 percent in an unusually mild December, a swing the government agency attributed to a more "seasonal" Canadian winter weather in January that drove demand for electricity and natural gas.
Retail trade grew 1.5 percent from the previous month, while wholesale trade fell 0.2 percent.
(Updates with economist comment in fourth paragraph.)
Before it's here, it's on the Bloomberg Terminal.
LEARN MORE