Brussels Airport Extends Shutdown Until at Least This Afternoon
by and
Evaluation of temporary repairs continues after suicide blasts

Police call for improved security at Zaventem terminal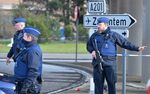 Brussels Airport extended its closure until at least this afternoon so officials can complete the evaluation of temporary repairs to re-open on a scaled-down basis, as airport police called for improved security after suicide bombs ripped through the terminal last week.
A lack of sufficient security could have been exploited by those who did reconnaissance for terrorists who struck the airport in the Brussels suburb of Zaventem on March 22, about 100 federal police officers wrote in an open letter to their managers. The letter cited concerns about mismanagement, shortage of staff, obsolete weapons and poor infrastructure, according to Belgian media.
The attacks destroyed the check-in area, shattered windows and brought down much of the ceiling in the departures hall, according to the airport. An assessment of the makeshift check-in and baggage-drop-off system will be made in conjunction with the Belgian government, police and other security agencies, according to airport spokeswoman Nathalie Van Impe.
"The evaluation of the trial is still ongoing and will take at least till this afternoon," the airport said Thursday morning in a posting on Twitter.
Check-In Area
The temporary system will be able to process 800 passengers an hour compared with the normal 5,000. To restore the check-in area completely "could take months," according to Brussels Airport Chief Executive Officer Arnaud Feist.
Brussels Airlines NV, whose main hub is Brussels Airport, is using four other cities to maintain service. The closure of the terminal in Zaventem is costing the carrier 5 million euros ($5.6 million) a day in lost revenue and additional expenses, spokesman Geert Sciot said.
As police continue the search for a third suspect in the airport attack, a computer abandoned by one of the terrorist suspects in the Brussels district of Schaerbeek was found to contain details of the Belgian prime minister's office, Belgian media reported.
The seized computer also contained information about Prime Minister Charles Michel's residence, which is located nearby and close to the U.S. embassy, according to newspaper L'Echo.
Reda Kriket
In a parallel terror investigation in France, suspect Reda Kriket was charged with conspiring to commit terrorism after a police operation last week foiled a possible attack, Paris prosecutor Francois Molins said at a press conference late Wednesday in Paris. Kriket was a apprehended in a raid on March 24 in Argenteuil, France.
In Brussels, court appearances were delayed for two suspects thought to be connected with the foiled plot in France. The pre-trial court sessions for the two suspects -- Algerian nationals identified as Abderrahmane A. and Rabah M. -- were postponed until April 7, the prosecutor's office said. Both suspects were taken into custody on March 25 in Brussels.
French President Francois Hollande meanwhile dropped planned constitutional changes that would have made it possible to strip those convicted of terrorist offenses of their French nationality. Hollande made the move after the two houses of parliament passed irreconcilable versions of the amendment, and after members of his own Socialist Party said they wouldn't support the measure.
Before it's here, it's on the Bloomberg Terminal.
LEARN MORE