Brazil Sees No Room to Cut Rates With Inflation Above Target
by
Central bank increases 2017 inflation forecast to 4.9 percent

Recent currency strenghtening could ease inflation pressure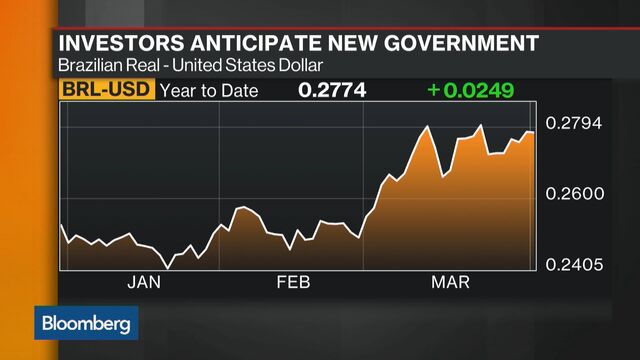 Brazil's central bank said it sees no room for cutting borrowing costs as inflation will remain above its 2017 target despite a prolonged recession.
Consumer prices will rise 4.9 percent in 2017, above the 4.5 percent government target, the central bank said in its quarterly inflation report on Wednesday. In the previous report released in December, the bank forecast inflation would slow to 4.8 percent by December of 2017.
"Such conditions don't permit working with the possibility of monetary flexibilization," the central bank said in the report, reiterating it will "adopt the necessary measures" to ensure the official target is met in 2017.

Annual inflation has recently slowed back into single digits as the impact of higher government-controlled prices faded and the currency strengthened, easing pressure on costs of imported goods. Yet the central bank said inflation still "shows signs of resistance" as non-economic events and fiscal uncertainty will continue to have an impact on prices.
In the report, the central bank forecast inflation will hit the 4.5 percent target only in the first quarter of 2018. Swap rates rose as a result. Rates on the contract due January 2017 climbed 6 basis points to 13.82 percent at 10:33 a.m. local time. The real gained 1.2 percent to 3.56 per U.S. dollar.
"Inflation expectations are still way above what the central bank projections show," said Carlos Kawall, chief economist at Banco Safra. "I think that there are recent benign signs that inflation will drop on the back of a stronger real and this could allow rates to be cut despite the central bank saying otherwise".
Political Crisis
President Dilma Rousseff faces an uphill battle against impeachment that has hampered her ability to pass measures to fix a growing budget deficit which also fuels inflation.
Policy makers have kept the benchmark interest rate unchanged in the past five meetings at 14.25 percent, the highest level since 2006. President Alexandre Tombini told lawmakers last week that rate cuts would only be possible when inflation slows and market expectations drop.
The central bank also revised down its growth estimates as Latin America's largest economy goes through a second consecutive year of recession. Policy makers see the economy shrinking 3.5 percent this year, compared to a 1.9 percent contraction forecast in December. The economy shrank 3.8 percent in 2015.
Before it's here, it's on the Bloomberg Terminal.
LEARN MORE