`Trade of a Decade'? It Doesn't Bode Well for Emerging Markets
by and
Surge in stocks and bonds in March masks underlying fragility

Trading volume, company profits, growth show different picture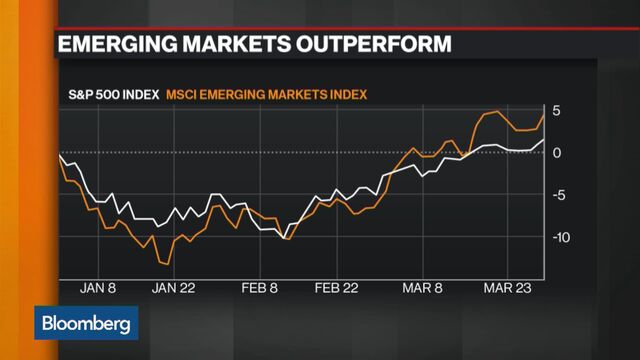 Behind the best gains for emerging markets since 2009, there are some ominous signs that the rally is about to hit a wall.
The 13 percent surge in stocks last month was accompanied by the lowest trading volume for five years in the markets with the biggest advances and the weakest company profits for six. In the foreign-exchange market, currencies are mirroring moves in oil prices by the most since 2012, suggesting vulnerability to any renewed weakness in commodities.
It all underscores the fragility of a rebound driven by $37 billion of inflows from investors in March, more than in any month since June 2014. Bears including Barclays Plc. and UBS AG say it's at odds with falling exports and contracting manufacturing in developing economies, while the forces behind the rally -- a dovish Federal Reserve, stability in China's economy and rises in oil prices -- are unlikely to persist.
"The macro picture for emerging markets hasn't really changed much since January," said Yerlan Syzdykov, a London-based emerging-market bond manager at Pioneer Investment Management Ltd., whose fund beat 98 percent of its peers over the past three years. "The economic slowdown in emerging markets will continue until 2018."

After losing a quarter of their value since 2012, emerging-market stocks, currencies and bonds roared back. About $1.8 trillion in market value added to stocks in biggest developing countries in March, the biggest jump on record going back to 2007.
The MSCI Emerging Markets Index gained 22 percent from a seven-year low in January, twice the increase in the benchmark for stocks in advanced economies. The MSCI gauge fell 1.6 percent at 9:04 a.m. in New York on Friday. Local-currency bonds returned 8.3 percent in March, the most since 2009.
Some of the headwinds have waned, at least for now. Oil prices have climbed 46 percent from a 13-year low in February. China stepped up efforts to support growth and expectations of interest-rate increases from the Fed have been tempered, with Chair Janet Yellen this week saying policy makers should "proceed cautiously."
With the dollar losing ground, the average yield of 6.5 percent on emerging-market local-currency debt started attracting bids in a world where about $8 trillion of global government debt offer rates below zero.
"Stop being bad is actually particularly great for an asset class that was very negative," said Pablo Goldberg, who helps oversee $10 billion in emerging-market debt at BlackRock Inc. in New York, on Bloomberg Television on March 28. "You start to get a little bit better floor for the currencies in EM as well as for commodities."
Goldberg turned bullish on emerging-market debt in February, the same month that Research Affiliates LLC, a sub-adviser to Pacific Investment Management Co., said developing-nation assets may be "the trade of a decade."
Not Convinced
Other investors are not convinced. Fewer than 24 billion shares in the companies of the MSCI's emerging-market benchmark changed hands every day since the rebound started in late January, compared with an average of 44 billion shares during the seven similar advances over the past five years, data compiled by Bloomberg show.
A net 11 percent of asset allocators surveyed by Bank of America Corp. said they were underweight emerging-market equities in March. While it was down from 23 percent in February, it still marks a record 15th month of bearish positions.
Then there's the exposure of emerging-market currencies to the oil price. The 60-day correlation between the two reached 0.66, near the highest since 2012. A reading of 1 indicates the two move in lockstep.

In the bond market, the gap between two-year and 10-year U.S. Treasuries, a barometer for appetite for high-yielding assets, has already narrowed to the smallest since 2007. That suggests emerging markets are susceptible to a reversal should inflation in the U.S. start rising, according to Citigroup's strategist Guillermo Mondino.
Developing economies have shown few signs of a pickup. Exports in South Korea, a bellwether, fell 19 percent in the first 20 days of March. Markit Ltd.'s gauge for manufacturing in developing nations contracted for the 11th straight month in February.
The economic weakness is manifested in corporate profitability. The return on equity for companies in the MSCI benchmark dropped to 10.5 percent, near the lowest since 2010, data compiled by Bloomberg show. Morgan Stanley predicts that the ratio will drop further to 9.6 percent by year-end.
"It's too early to say the coast is clear," said John Carlson, a Boston-based money manager at Fidelity Investments whose New Markets Income Fund beat 92 percent of peers over the last five years. "The ability to sustain that rally is going to require other things to stay in place."
Before it's here, it's on the Bloomberg Terminal.
LEARN MORE