Qatar Hit With New Allegations of Labor Abuse at World Cup Sites
by
Living conditions are `squalid' and wages are delayed

Qatar's focus has been on safety, vows to improve conditions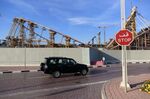 Qatar was handed one of the most withering assessments yet of its treatment of migrant workers preparing the country for the 2022 World Cup.
Contractors in the Gulf nation, the world's richest per capita, were accused by London-based Amnesty International of ignoring deceptive recruitment practices, confiscating passports and housing employees in "squalid" conditions, according to a 51-page report published Thursday. Qatari officials said parts of the report are outdated and conditions have improved.
Qatar has come under unflattering scrutiny since it won the right to host the 2022 World Cup six years ago. It's been criticized for its labor laws and dogged by allegations of corruption in the award of the tournament by world soccer body FIFA. The world's biggest liquefied natural gas exporter is spending about $200 billion on infrastructure to put on the world's most-watched sporting event. The plan includes at least eight new stadiums and a $35 billion metro and rail system. New highways are being laid and a city for 200,000 people is rising north of the capital, Doha.
The emirate's moves to improve labor conditions include its plan to abandon its sponsorship law for foreign workers and replace it with contractual employment in December. The most visible improvement so far is in migrant workers' housing. While the majority live in tight quarters, sometimes eight or more in 25-square-meter (270-square-foot) rooms, better facilities have been built, including a 3 billion-riyal ($824 million) compound known as Labor City, which can house 70,000 people.
The country's priority has been on worker safety and improving accommodations, said Hassan Al Thawadi, secretary general of the Supreme Committee for Legacy and Delivery, which is overseeing preparations for the World Cup. While agreeing with some of the issues raised by Amnesty, Al Thawadi told reporters on Monday that the report vindicated his agency's commitment to improving labor conditions. Many of the concerns raised by Amnesty have already been addressed, he said.
"We don't have the magic wand that will fix the problem," Al Thawadi said. "This World Cup is a catalyst for positive change, and accordingly, it means you will find issues on the ground that you have to resolve, and that's what we are doing."
Qatar will investigate the contractors named in the report and remains "committed to the ongoing, systematic reform" of labor laws, according to an e-mailed statement from the government's spokesman.
The United Nations has taken a less favorable view of Qatar's efforts. Qatar "has undertaken no effective measures to stop" forced labor, its International Labor Office said in a March 17 report. "At best, the government has moved from outright denial of the problem to significantly downplaying it."
Before it's here, it's on the Bloomberg Terminal.
LEARN MORE