Warriors' Likely Record Breaker Has (Relatively) Cheap Tickets
by
Seats for road game at Memphis averaging $203 on resale sites

That's less than a typical Golden State road game this season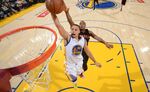 Steph Curry and the Golden State Warriors have been basketball's biggest draw all year, commanding high ticket prices both home and away as they chase the NBA's single-season wins record. So why are seats to their game in Memphis next Saturday night -- when they're most likely to break the record -- so inexpensive?
Ticket listings for their April 9 game against the Grizzlies are averaging $203, according to aggregator SeatGeek. That's less than half the average price for the team's home game two days earlier against the San Antonio Spurs ($438), and lower than the Warriors' road average this season ($221).
"I'm actually curious if the idea just hasn't caught on yet that this could be the record breaker in Memphis, or if Grizzlies fans just don't care that much more than their already increased interest to see the Warriors," Chris Leyden, a spokesman for SeatGeek, said in an e-mail. "It will be interesting to see if the price moves up as the game gets closer."

The defending-champion Warriors (67-7) need to win six of their final eight games to pass the single-season mark of 72-10, set by Michael Jordan's Chicago Bulls in 1995-96. Should Golden State win its next five, they'll have a chance to break it on the road against the Grizzlies.
Though obviously a bigger draw at home, Golden State typically boosts ticket prices in opponents' arenas as well. Road games have produced the most expensive resale tickets for 23 of the league's other 29 teams, according to SeatGeek. The Warriors' $221 road average is 2 1/2 times more than the leaguewide average.
Ticket app Gametime, which specializes in last-minute seats, has Warriors-Grizzlies tickets listed for as low as $158. Spokesman Sean Pate said the low prices could be a product of fans waiting until a little closer to game time, hoping to increase the odds that this is a chance to witness NBA history. He added that Memphis (41-33) has struggled recently through a rash of injuries, and though the team is a virtual lock to make the playoffs, interest from fans is waning.
Resale seats for recent Grizzlies games have averaged $26 on Gametime. For tonight's game against the Denver Nuggets, the app has tickets listed for as low as $1, the cheapest the company has ever seen for an NBA game.
"That game versus the Warriors is still 6x the recent Grizzlies average price," Pate said in an e-mail. "However, if that game were tracking to be played at Oracle Arena in Oakland, it would certainly be double."
Before it's here, it's on the Bloomberg Terminal.
LEARN MORE