The Pope and Political Paralysis: How Telefonica Got Its New CEO
By and
Cesar Alierta flew to Rome as he weighed ending 16-year tenure

Timing leaves less room for government influence at carrier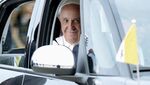 In the days before announcing his departure as chairman and chief executive officer of Telefonica SA, César Alierta boarded a private plane for Rome to confer with the pope about his plan, according to people with knowledge of the matter.
Alierta, 70, spoke more than once with Pope Francis as he weighed a change after almost 16 years atop Spain's former telephone monopoly, according to the people, who asked not to be named discussing private matters. While Telefonica Chief Operating Officer José María Álvarez-Pallete has been heir apparent for more than three years, the decision to leave now came together in the last two to three weeks, the people said. The death of Alierta's wife last year also left him dedicating less time to the company, they said.

Alierta, who hails from a family of politicians, built his career on having the right connections, and used Spain's political environment to advance his company's interest. His sense of timing was evident when he announced his successor just as Spain muddles through a political stalemate that's left country without a government -- a consideration that factored into the decision's timing, the people said, and gives Telefonica's incoming CEO a chance to operate freer from political influence than at any time in the company's 90-year history.
"Alierta was associated with a certain generation of business leaders," said Ricardo Wehrhahn, managing partner at Intral Strategy Execution, a banking and business consulting firm in Madrid. "They were business people with political backgrounds and connections and that was very important. The new generation is more technical."

Alierta will remain involved, as a board member and head of the Telefonica Foundation, the company's social-responsibility platform, a part of his conversations with the pope, the people said.
They became friends when Pope Francis, now leader of the Catholic church, was in Buenos Aires, according to the people. Together they've discussed boosting digital access for children and helping young entrepreneurs, and are looking for ways to collaborate on child welfare and education projects in Latin America, the people said.
Spokesmen for Telefonica and the pope declined to comment.
If, as expected, Pallete is named as Alierta's replacement, he will be the first Telefonica chairman who wasn't appointed by the government. A technocrat who scrupulously avoided politics during his rise through the ranks, Pallete was chosen, the people said, because he had the clearest strategy and was best-suited to navigate the carrier through a technology-driven environment.
Near the top of the do-list is lowering debt. A planned initial public offering of the company's Telxius infrastructure unit and EU approval of the sale of U.K. wireless unit O2 would help, but there's more to do in a company with 49.9 billion euros ($56.5 billion) in net debt.
Telefonica shares fell 1.4 percent to 9.93 euros at 1:05 p.m. in Madrid, paring two days of gains after Alierta's decision to step down.
Digital Focus
Since becoming COO in 2012, Pallete, 52, has led the asset-sale effort, and he also cut prices to keep customers during Spain's economic crisis. He realigned the company's digital operations and investments, and recently hinted he wants to charge customers for the amount of data they use.
"Naming Pallete underlies the company's strategic change, with a larger focus on digital," said Carlos Losada, a professor at the Esade business school. "One of the problems he has is how will he adapt to being in the top job given that he has always worked for somebody, and how he juggles a new set of interests."
Pallete has told some people he'll take three to four months to decide on successor as COO, according to one of the people. Chief Financial Officer Angel Vila, Spain head Luis Gilperez and Chief Commercial Digital Officer Eduardo Navarro are among the candidates, the person said, though the job could go to someone else, or be left open.
Spain first sold part of its Telefonica stake in 1995. The company became fully public in 1999, according to its website. In 2000, Alierta became the second of two chairmen hand-picked by the government to run the company following the move toward privatization. He maintained strong ties to the government, even hiring Rodrigo de Rato, who was vice president when Alierta was elected chairman, to the Telefonica board.
Alierta also cultivated ties to leaders in areas where Telefonica operated, ranging from Luiz Inacio Lula da Silva in Brazil and Hugo Chavez in Venezuela to Angela Merkel in Germany. He proclaimed that Telefonica had the best and largest number of programmers in Europe, and that financial analysts were incapable of appreciating the company's value.
High Salaries
While the company has cut staff, it ranks 14th out off 22 companies in the Stoxx 600 Telecommunications Index in net income generated per 1,000 employees, according to data compiled by Bloomberg. In 2015, it had the second largest compensation package for executives on the index, behind Deutsche Telekom SA.
His political skills gave Alierta "a great ability to work with regulators and governments at a time when it was necessary," Losada said by phone. "But as the company changes its corporate strategy and focuses mores on digital businesses, that ceases to be as important and new skills are needed."