Tapstone's Tom Ward Backed by Private Equity He Once Avoided
by and
Blackstone's GSO has stake in Ward's oil and gas driller

Tom Ward founded Chesapeake, SandRidge before Tapstone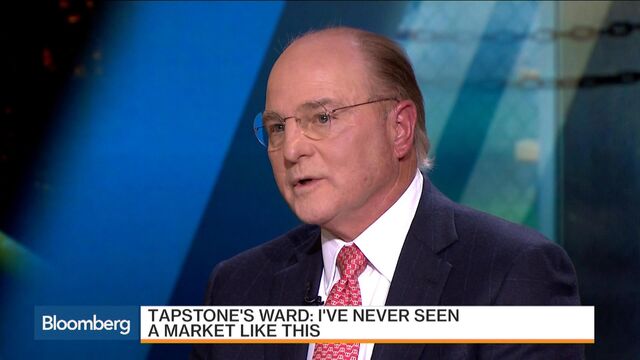 Tom L. Ward, the Oklahoma natural-gas explorer who launched Chesapeake Energy Corp. with Aubrey McClendon three decades ago, has found backing from private equity firm Blackstone Group LP for his latest venture, Tapstone Energy LLC.
Blackstone's GSO Capital Partners took an undisclosed stake in closely held Tapstone in 2014, Ward said Tuesday in an interview at Bloomberg headquarters in New York. The 56-year-old entrepreneur has previously tried to avoid private equity investments, calling them "fairly graspy."

"Access to capital is always good," Ward said this week. The need for financing at a time when banks have severely restricted lending to energy companies overcame his qualms about giving outsiders a say in the business.
More than half of Tapstone's output is from natural gas. The heating and power plant fuel has fallen by more than two-thirds since touching $6.493 per million British thermal units in February 2014.
Paula Chirhart, a spokeswoman at Blackstone, confirmed that GSO has a stake in Tapstone. She declined to specify the size. 
Today, lending markets are as tight as any environment he's seen since the late 1980s or early 90s, Ward said. Schlumberger Ltd., the world's largest oilfield services provider, has called this the worst financial crisis on record for oil and gas companies.
Tapstone has the right to drill on 150,000 acres in the Stack play of northwestern Oklahoma. The company has been contacted by potential acquirers, he said, declining to be more specific. GSO is represented on the Tapstone's board and would be part of any discussions, he said.
"We're always in the market discussing different ideas with people," Ward said. "There could be a perfect partner that might need our cash flow inside of the business, that could be a good arrangement for us. We have no pride of ownership if there are other good management teams that could use our assets."
Before it's here, it's on the Bloomberg Terminal.
LEARN MORE