Suu Kyi Ally Sworn in as Myanmar President Ahead of Transfer
by and
Htin Kyaw becomes first civilian elected leader in decades

Suu Kyi to head four ministries including foreign affairs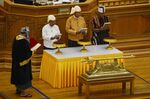 Myanmar's parliament swore in a close ally of Aung San Suu Kyi to become the country's first democratically elected civilian leader in more than a half-century, while the Nobel laureate was officially named foreign minister.
Htin Kyaw, a former classmate and longtime confidant of the National League for Democracy leader, took the oath of office Wednesday in Naypyidaw and his term will begin April 1. Suu Kyi, who is constitutionally barred from becoming president, was sworn in to head four ministries, though she has said she will lead the entire government.
QuickTake Myanmar's Transition
"I will uphold and abide by the constitution and its laws," Htin Kyaw said as part of the oath. "I will carry out the responsibilities uprightly to the best of my ability and strive for further flourishing the eternal principles of justice, liberty and equality. I will dedicate myself to the service of the Republic of the Union of Myanmar."
Sworn in alongside Htin Kyaw were his vice presidents, Henry Van Thio, an ethnic Chin lawmaker from the NLD, and Myint Swe, a former general nominated by parliament's military appointees. In a later ceremony with the 18 cabinet appointees, Suu Kyi took the foreign affairs, education, energy and president's office portfolios.
Power Transfer
The NLD scored a resounding win in November's election and dominates both houses of parliament, meaning the party was able to elect the president of its choosing, though not Suu Kyi. She had met army chief Min Aung Hlaing several times to discuss the power transfer and a possible change to the constitution, but was unable to reach a deal.
Though he is not a lawmaker, Htin Kyaw's ties with the party and Suu Kyi run deep. He attended the same secondary school as Suu Kyi and went on to study at the Yangon Institute of Economics and at the University of London. He currently serves as a director at the Daw Khin Kyi Foundation, a charitable organization named after Suu Kyi's mother.
He is the son of renowned Myanmar writer Min Thu Wun, who was an early member of the NLD. He is married to Suu Suu Lwin, an NLD lawmaker who is the daughter of U Lwin, a former finance minister who helped form the party.
'Sacrificed Lives'
Aye Mya Mya Myo, a former teacher turned NLD lawmaker, said Wednesday that she was pleased the new president was a civilian and a writer and that he has loyally supported Suu Kyi for so many years. She said it was an historic day that was long coming.
"I want to thank the people who have struggled to reach this stage," she said. "We finally get a civilian government after we have sacrificed lives and many years."
Suu Kyi, 70, and her party are longtime opponents of the generals who ruled Myanmar until 2011, when they handed power to their political arm. Her party has been vague about its plans once the handover from President Thein Sein's government is completed.
Htin Kyaw told parliament in a short speech Wednesday that his government would prioritize national reconciliation, internal peace, building a democratic federal system, and raising living standards. He also hinted a changes to the constitution, which would require military approval.
"I have a duty to have a constitution that is suitable for this country and in line with democratic principles," he said. "I understand that we need to be patient and to implement the political goal that the people have desired for many years."
To take a cabinet post, Suu Kyi will need to step down as a lawmaker and also from her role as leader of the party she helped found more than 25 years ago. As foreign minister, Suu Kyi will gain a seat on the powerful National Defense and Security Council. The board, which was created in the departing junta's constitution, is packed with military appointees and could potentially exercise broad power over the elected government.
Before it's here, it's on the Bloomberg Terminal.
LEARN MORE