Zuma's Friends the Guptas Face Probe by South African Police
Alastair Reed and Amogelang Mbatha
Special `Hawks' unit to probe corruption allegations

Police unit confirms that investigation is under way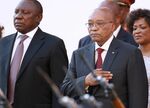 A special South African police unit known as the Hawks said it's investigating corruption allegations against members the Gupta family, who're friends of President Jacob Zuma and are in business with his son, following a formal request by the opposition Democratic Alliance party.
The Hawks will investigate the influence of private groups, including the Gupta family and Zuma's son, Duduzane, on government business, David Maynier, a DA member of parliament, said in an e-mailed statement Wednesday. The Gupta family has denied the accusations.
"Yes, we have got the issue and we are investigating," Hawks spokesman Robert Netshiunda said by phone. He said the unit would carry out the probe "without fear or favor."
The investigation follows allegations that the Gupta family, which runs a business empire ranging from computers and media to uranium mining, has meddled in government policy. Deputy Finance Minister Mcebisi Jonas has accused the Guptas of personally offering him the job of taking over the Finance Ministry, the latest in a series of embarrassing allegations linked to Zuma that have led opponents and allies alike to question his relationship with the Indian family.
Jonas's claims triggered several senior members of the ruling African National Congress to make similar allegations about the Gupta family's attempts to unduly influence the state. They prompted ANC Secretary-General Gwede Mantashe to warn that South Africa is slipping into a "mafia state."
Before it's here, it's on the Bloomberg Terminal.
LEARN MORE