U.S. Stocks Add to Rally Sparked by Dovish Message From Yellen
By
Equities on track for biggest monthly gain since October

Banks rebound after five-day slide, longest in six weeks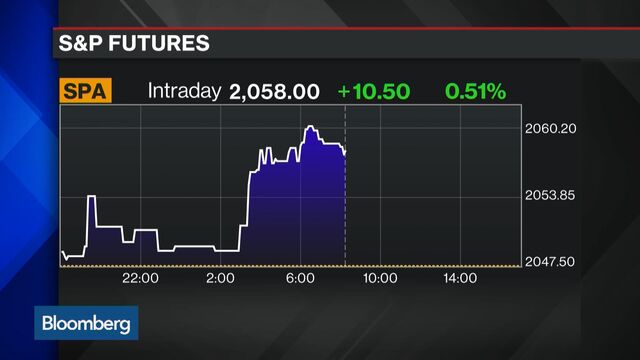 U.S. stocks rose, extending to the highest levels this year, as central bankers continued to spur optimism amid assurances that they will act to stave off a global downturn.
The Standard & Poor's 500 Index climbed for a third day after yesterday posting the strongest increase in two weeks as Federal Reserve Chair Janet Yellen signaled officials will be cautious in raising interest rates due to heightened economic risks overseas. The dollar headed for its steepest monthly drop since 2010. Apple Inc. rallied to a three-month high, boosting technology shares, while banks rose for the first time in six days.
The S&P 500 added 0.4 percent to 2,063.95 at 4 p.m. in New York, pushing its 2016 gain to 1 percent. The Dow Jones Industrial Average climbed 83.55 points, or 0.5 percent, to 17,716.66. The Nasdaq Composite Index increased 0.5 percent to close above its average price during the past 200 days for the first time this year. About 6.6 billion shares traded hands on U.S. exchanges, 22 percent below the 2016 daily average.
"We're seeing a follow-through from yesterday's strength following Yellen's comments," said Terry Morris, a senior equity manager who helps oversee about $3.2 billion at Wyomissing, Pennsylvania-based National Penn Investors Trust Co. "She backed off any hawkishness she had -- it was a complete dovish story, which the markets wanted, and they've responded. Now we have some important data coming up later this week, and earnings are right around the corner."

The S&P 500 has climbed nearly 13 percent from a 22-month low on Feb. 11, as crude prices rebounded from their lowest in 12 years and central bankers from Europe to Japan and the U.S. signaled they will continue efforts to support growth, calming concerns about a slowdown in the global economy. The gauge erased its 2016 decline and is heading for a second quarterly advance. It has risen 6.8 percent in March, set for the best month since October.
Traders are pricing in no possibility of an April rate boost following Yellen's comments, while the chances for a June increase have fallen to about 22 percent from 46 percent a week ago. December is now the first month with at least even odds of higher borrowing costs. Despite those signals from the market, Chicago Fed President Charles Evans said today the economy will probably be strong enough to justify two increases in 2016.
Policy makers have emphasized that progress in economic data will steer their rate decisions. A report today showed companies in the U.S. added 200,000 workers to their payrolls in March, slightly above the forecast of economists surveyed by Bloomberg. The government's monthly jobs report due Friday is predicted to show a 205,000 gain with the unemployment rate holding at 4.9 percent. A measure of manufacturing activity is also set for Friday.
Slow Pace
"Slow hikes are key for markets at the moment," said Kully Samra, a London-based client manager at Charles Schwab Corp., which has $2.4 trillion in client assets. "Yellen has taken back a degree of control after other policy makers had warned that rates could rise in April. The policy discussion was very detailed and clear, which always reassures investors. We know exactly what the Fed is looking for."
The Chicago Board Options Exchange Volatility Index fell 1.9 percent Wednesday to 13.56, the lowest since Aug. 17. The measure of market turbulence known as the VIX has tumbled 34 percent in March, set for the biggest monthly drop since October.
Amid a recent slide in trading volume and volatility, the S&P 500 has now gone 12 sessions without a daily swing of at least 1 percent, the longest since June. The benchmark on Friday snapped a five-week surge that had added more than $2 trillion in value to U.S. stocks, and it's 3 percent from a record set last May.
The quarter ends tomorrow, meaning the earnings season looms with Alcoa Inc. marking the unofficial start when it reports results on April 11. Analysts forecast profits at S&P 500 companies fell 9.3 percent in the period, compared with predictions for a 4.5 percent drop two months ago.
Seven of the S&P 500's 10 main industries advanced today, with technology, consumer discretionary and financial companies leading gains. Utilities, phone and health-care companies were little changed.
Tech, Financials
Apple rose 1.8 percent to the highest level since Dec. 16 after Cowen & Co. LLC upgraded the shares to the equivalent of buy from neutral. The U.S. said earlier this week that it gained access to the data on an iPhone used by a terrorist and no longer needed the company's assistance, ending a legal clash. Cisco Systems Inc. added 1.6 percent to an almost five-month high.
S&P 500's group of financial stocks climbed for a third day. The increase was aided by a rebound in banks, which added 0.9 percent, snapping a five-session losing streak. JPMorgan Chase & Co. and Wells Fargo & Co. rose at least 1.1 percent.
MetLife Inc. surged 5.4 percent after a court ruled against a regulatory designation labeling the insurer as too big to fail. Prudential Financial Inc. and American International Group Inc. advanced at least 2 percent.
Consumer discretionary shares gained for a fourth day while the consumer staples group in the benchmark stretched to an all-time high. Carnival Corp. increased 5.5 percent, the most in a year, after its quarterly results and outlook were better than analysts forecast. Royal Caribbean Cruises Ltd. added 5.7 percent, the biggest gain since July. Dollar Tree Inc. climbed 2.3 percent to an 11-month high.
PepsiCo, CVS
PepsiCo Inc. and CVS Health Corp. advanced at least 1.3 percent to five-month highs, boosting staples companies to a record. Costco Wholesale Corp. increased 1.5 percent for its first three-day advance in four weeks.
Among other companies moving on corporate news, Lululemon Athletica Inc. jumped 11 percent, the most in nine months after lower costs and improvements to the company's supply chain helped it beat analysts' quarterly earnings estimates.
Boeing Co. lost 1.8 percent, extending a slide to a sixth session, the longest since November. The company plans to cut about 4,000 jobs from its commercial airplanes division by mid-year as part of a broader effort to reduce costs amid fierce competition from Airbus Group SE. Boeing's losing streak comes right after its longest rally in 14 months.