Park Says South Korea Must Rid World of Nukes, Not Develop Them
By
President Park speaks in written interview with Bloomberg

Trump says he's open to South Korea building nuclear arsenal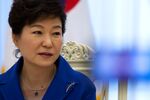 South Korean President Park Geun Hye said her nation must take the lead in ridding the world of nuclear weapons -- not develop its own arsenal as Donald Trump has advocated in recent days. 
"I have a strong conviction that the vision for a nuclear-free world must begin with the Korean peninsula," Park said in a written interview with Bloomberg News before a two-day summit on nuclear security in Washington, starting Thursday. "The Korean government maintains an unwavering stance in support of denuclearization."
A decade of international sanctions has failed to deter Pyongyang's drive to develop nuclear arms, and the country's fourth underground test in January has fueled calls from some in South Korea for the nation to develop its own. Republican presidential candidate Trump added his voice to the debate, saying in a New York Times interview published on March 26 that he'd be open to South Korea and Japan building their own arsenals rather than depending on the U.S. nuclear umbrella.
UN Sanctions
Supreme leader Kim Jong Un said earlier this month that his country would "soon" test another nuclear device, signaling his defiance of the latest United Nations Security Council effort to pressure North Korea to end its nuclear program. The UN this month adopted new sanctions targeting North Korea's mineral exports, estimated to account for 40 percent of its income.
Park, who has just under two years left in her five-year term, warned that North Korea would "self-destruct" if it continues to test nuclear weapons.
"The North Korean regime has not abandoned its nuclear ambitions and is now threatening to preemptively use nuclear weapons," Park said. "If we were to neglect this problem, the North's nuclear capabilities will continue to be upgraded, and this will lead to an irreparable catastrophe on the Korean peninsula as well as the collapse of the foundation for peace and order in Northeast Asia and the world."
She said that at this stage she'd continue to keep the squeeze on North Korea through sanctions rather than dialogue as that is the "only way to ultimately achieve genuine peace by inducing changes in the North."

Park said the government in Beijing -- Pyongyang's only major ally -- remains key to convincing North Korea that it will face "unbearable, severe" consequences if it continues nuclear tests. China, North Korea's biggest trading partner, has been reluctant to pile too much economic pressure on Pyongyang for fear of provoking the collapse of the Kim regime and a possible flood of refugees across its border.
Unification
Even with relations with North Korea at their lowest point in years, Park still hopes for an eventual reunification of a peninsula that has been divided for more than six decades since the end of the civil war. She has previously said that uniting the countries would bring an economic bonanza to the combined 75 million people on the peninsula by merging the capital and expertise of the south with the skilled labor force and natural resources of the North.
"I would like to be remembered as a president who set the cornerstone for peaceful unification on the Korean peninsula by severing North Korea's vicious cycle of provocation leading to dialogue followed by another provocation, and by creating an environment in which North Korea has no choice but to choose a path for change."



Park said Japan remains an important partner in dealing with North Korea, as well as for sustaining economic growth. After holding her first two-way summit with Prime Minister Shinzo Abe in November, and with a trilateral meeting including Obama scheduled in Washington on Thursday, she said she now expects to talk more with the Japanese premier.
The need for a united front to confront the North Korea threat has contributed to a rapprochement between Japan and South Korea, though lingering bitterness over Japan's militant past continues to weigh on relations seven decades after the end of World War II.
"The issues related to history have continued to be a stumbling block to the development of a future-oriented bilateral relationship," Park said of Japan, a nation that occupied the peninsula for 35 years until its surrender in 1945. Japan should "squarely face history and make efforts to properly educate future generations without forgetting past wrongdoings."