Ontario Teachers' Mock Undeterred by Attacks on Brussels Airport
by
Canada's third-largest pension plan's assets hit C$171 billion

Private capital leads returns, followed by infrastructure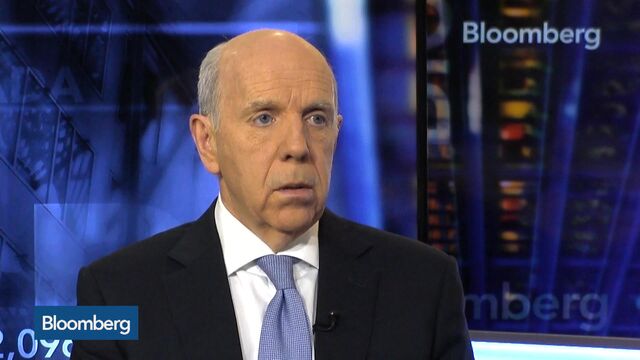 The terror attacks in Brussels won't change the Ontario Teachers' Pension Plan's strategy of investing in infrastructure, Chief Executive Officer Ron Mock said.
Ontario Teachers', Canada's third-largest pension fund, owns 39 percent of the main Brussels airport, and at this point has no estimates on the monetary costs of the attacks or when the airport will reopen, Mock said.
The pension fund had about C$15.7 billion ($12.1 billion) invested in infrastructure at the end of December. Mock said the March 22 attacks won't change Teachers' strategy.
"Those kinds of risks are always taken into account when we conduct our due diligence," Mock told reporters in Toronto Wednesday. "We think about these things in a very broad sense. Whether you own a shopping mall or an investment in restaurants or anything. The reality is you have to think broadly about these issues."
Temporary Repairs
The Brussels airport remained closed Wednesday as officials completed work on temporary repairs more than a week after suicide attacks destroyed the check-in area, shattered windows and brought down much of the ceiling there. 
In all, 32 people were killed in that attack and another about an hour later at a central subway station, according to authorities.
Mock said he has offered support to the Belgian government.
Asked if Ontario Teachers' would consider investing in another airport in the aftermath of the attacks, Mock didn't waver. "100 percent," he said.
Ontario Teachers' was part of a consortium that acquired London City Airport last month.
Despite the threat of terrorism, infrastructure assets fit the needs of long-term investors like Ontario Teachers', Mock said. In 2015, the pension plan's infrastructure portfolio returned more than 21 percent on its investments, the pension fund said in a statement Wednesday.
13% Return
That helped drive Ontario Teachers' 13 percent overall return on its investments last year, it said.
As a result, Ontario Teachers' assets under management increased 11 percent to C$171.4 billion at the end of December from $154.5 billion a year earlier, the pension fund said.
Ontario Teachers' reported the greatest returns from its private capital investments, which delivered 32 percent over the course of the year, followed by its infrastructure portfolio.  
The overall public and private equity investments returned almost 18 percent despite weakness in its Canadian investments, which were down about 12 percent in 2015, the pension fund said.
The fixed income portfolio returned 6 percent in 2015, while natural resource investments fell 1.3 percent from a year earlier amid the commodity rout.
Ontario Teachers' oversees the savings of 316,000 retired and working teachers.
Before it's here, it's on the Bloomberg Terminal.
LEARN MORE