Morneau Isn't Considering Changes to Canadian Capital-Gains Tax
by
`Not something we've looked at,' minister says in interview

Review seeks to clean up tax code, raise C$3 billion by 2018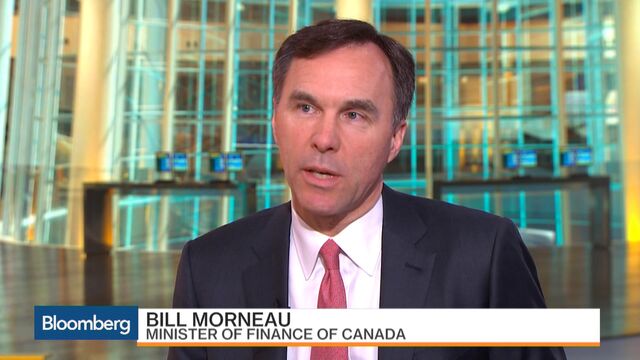 Changes to Canada's capital gains taxes aren't part of Prime Minister Justin Trudeau's plan to find an extra C$3 billion ($2.3 billion) in revenue to help fund billions of dollars of spending on social benefits and infrastructure, according to Finance Minister Bill Morneau.
Morneau said the review of taxes is ongoing but suggested capital gains wouldn't be among the changes that he hopes will generate new revenue by 2019 as the government pushes ahead with about C$50 billion in new spending that will help drive deficits to a cumulative C$120 billion in the next six years.
"That's not something we've looked at, it's not part of our plan," Morneau, the 53-year-old first-time lawmaker and former corporate executive, said during an interview at Bloomberg's headquarters in New York. "We are going to look at tax expenditures over the course of the next year. It's intended to be a review that will clean up our tax code, so looking at some credits and things that have been put in place that have made our tax code more complex, over the last decade in particular."
Trudeau's Liberals won power in elections last fall with a pledge to help middle-income earners, replacing the Conservatives led by Stephen Harper. The government's budget on March 22 replaces years of austerity under Harper with investments aimed at jump-starting growth in economy struggling with an oil shock.
Rolling Back
The Liberals have already begun rolling back some of Harper's tax measures -- canceling, an income-splitting provision that favored single-earner families. They also lowered the tax rate on middle-income earners while creating a new, higher tax bracket on incomes above C$200,000 annually. Canada's once-universal child benefits will now be directed away from higher-income households.
The Liberal election platform also pledged an increasing level of savings from both a review of Harper's tax expenditures and spending -- C$500 million in the fiscal year beginning Friday, C$1 billion in 2017-2018, C$2 billion in 2018-2019 and C$3 billion in 2019-2020.
The "core objective" of the review was to "look for opportunities to reduce tax benefits that unfairly help those with individual incomes in excess of $200,000 per year," according to the platform.
Tax Free
Canada has a host of different rules for the treatment of capital gains. Only 50 percent of capital gains on investments are generally taxed while gains from the sale of a primary residence are tax free, a measure that is projected to have cost the federal government C$5.3 billion in 2016.
Pressed on whether his government is eyeing any changes there, Morneau reiterated that "it's not part of our plan."
Morneau's budget made some alterations to capital gains rules. It canceled a looming change that would have allowed people to avoid capital gains tax by donating stocks and real estate to charity. The budget also included measures to prevent deferral of capital gains taxes by mutual funds structured as switch funds.
Before it's here, it's on the Bloomberg Terminal.
LEARN MORE