business
Modi's Plan to Clean Up World's Worst Air Resisted by Indian Power Generators
By and
Clean-air modifications to cost $37 billion, power group says

Upgrades to improve world's worst air must be done in 2 years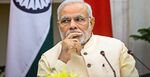 India's effort to clean up the world's worst air is facing resistance from power producers who say the government is asking them to spend too much and revamp old plants too quickly.
The nation's first steps to limit toxic emissions from coal-fired power plants may cost 2.5 trillion rupees ($37 billion) and will take longer than the two-year deadline set by the government, according to the New Delhi-based Association of Power Producers, a lobby group of non-state power generation companies.
"There are financing challenges, implementation challenges, administrative challenges and regulatory challenges," said Ashok Khurana, APP's director general. "The two-year deadline is just impractical. It's impossible."
The clean-up standards were published days after Prime Minister Narendra Modi returned from the December climate conference in Paris amid uproar over the worsening air quality in the capital New Delhi. India is home to 11 of the top 20 cities on the planet with the worst air quality, according to data from the World Health Organization, which collected pollution levels from 1,600 metropolitan areas between 2008 to 2013.

After endorsing the historic climate package in Paris to curb pollution, Modi is under pressure to limit human and environmental costs linked to fossil-fuel consumption in India, where thermal coal accounts for more than 60 percent of electricity generation. 
India unveiled its first-ever emissions norms for particulate matter, sulfur dioxide and nitrogen oxides from thermal power plants in December. The most stringent of them, which apply to new plants, measure up to those in the EU and China, according to an analysis by The Clean Air Task Force, a Boston-based climate advisory group. The environment ministry also put a cap on water usage at power plants, among the biggest water-guzzlers in India.
For particulate matter -- extremely small solid or liquid particles -- India allows a maximum concentration of 30 milligrams per normal cubic meter for plants to be installed after 2016. The limit is more forgiving for plants set up before 2004, allowing for up to 100 milligrams. In comparison, China allows a maximum of 30 milligrams for all plants, while in the EU the limit varies from 10 milligrams to 20 milligrams. In the U.S., the permissible limit is 10.9 milligrams, according to The Clean Air Task Force.
Picnic Spots
"The measures can help reduce industrial pollution by half," said Chandra Bhushan, Deputy Director General at Centre for Science and Environment, which said last year in a report that some Indian power plants are among the most inefficient in the world.
Modi's government plans to make India's power plants so clean the surroundings could be picnic spots for families, Power Minister Piyush Goyal told a Japanese delegation visiting New Delhi last year.
APP, whose members include Adani Power Ltd. and Tata Power Ltd., has the backing of the federal power ministry, according to its secretary Pradeep Kumar Pujari. While both acknowledge the need to cut pollution, they say the environment ministry's plan is too demanding.
Extra Time
The group is asking that the timeline be extended to four to five years and that it allow 62 gigawatts of the country's 173 gigawatts of coal-based capacity to be phased out and replaced rather than upgraded, it said in a March 7 letter to Goyal. India's Central Electricity Authority estimates coal-fired capacity at 176 gigawatts.
The group says it will cost 2.5 trillion rupees to retrofit existing plants, as well as the 75 gigawatts of capacity under construction, which equals about 10 million rupees per megawatt. Some of the costs of the improvement should be subsidized by the government and the rest passed on to consumers, the APP said in its letter.
"Let alone the implementation, it's extremely challenging to even design this for existing plants," said Kameswara Rao, who oversees energy, utilities and mining at PwC India. "The government should have a road map to do emission control in a staggered way over some years, instead of targeting all plants by 2017."
The government could also use an environmental tax on coal to soften the cost burden, which impacts electricity consumers, Rao said. India doubled the tax on coal to 400 rupees a metric ton in February.
"We're examining the issues raised but we're not obliged to accept them," said Ashok Lavasa, secretary in India's Ministry of Environment, Forests and Climate Change.
State-owned NTPC Ltd., India's largest power producer, didn't respond to e-mailed queries on the topic.
Coal Kills
Power plants built at a record pace over the past decade to meet the nation's rising energy demand now find themselves running at about 60 percent capacity because of decreasing purchases from cash-strapped state distribution companies, which are saddled with more than 4 trillion rupees of debt. The S&P BSE India Power Index has declined 17 percent over the past year, compared with a 9.4 percent drop in the benchmark S&P BSE Sensex.
Pollution from coal power plants caused as many as 115,000 deaths in the South Asian country and widespread respiratory ailments in the year ended March 2012, according to a report titled 'Coal Kills' by non-profit organizations Greenpeace, Conservation Action Trust and Urban Emissions (India). The monetary cost associated with the health impacts of coal plants was as much as 230 billion rupees, the report said.
"India and its power industry have to understand that there's a cost to the delay as well," said Ranajit Sahu, a consultant with The Clean Air Task Force. "That's the cost to health. That's the cost to its human capital. And that cost is significantly larger than all the costs combined."
Before it's here, it's on the Bloomberg Terminal.
LEARN MORE