ICBC, Bank of China Cut Dividend Payouts as Profit Growth Stalls
Bloomberg News
Dividend payout ratios for lenders fall to 30% from 33%

Both banks report 2015 profit growth of less than 1%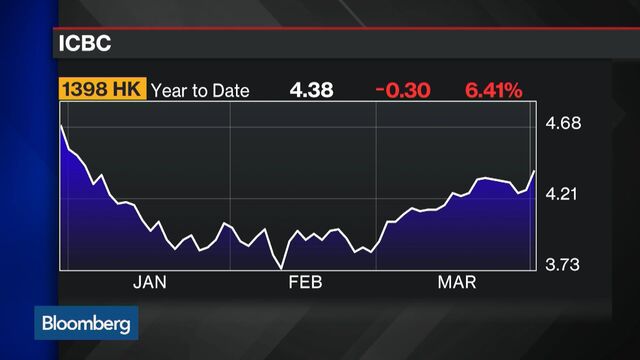 Industrial & Commercial Bank of China Ltd. and Bank of China Ltd., two of the nation's largest state-controlled lenders, cut their dividend payout ratios for 2015 as profit growth stalled amid rising bad loans.
Net income at ICBC rose 0.5 percent to 277.1 billion yuan ($42.8 billion) last year while Bank of China reported a 0.7 percent profit gain, the Beijing-based lenders reported to the Hong Kong exchange on Wednesday. The percentage of profit they paid out as dividends fell to about 30 percent from 33 percent in 2014 as the two lenders sought to preserve capital.
Slowing economic growth and record levels of corporate debt have driven Chinese banks' bad loans to a decade high, putting at risk more than a decade of annual profit gains and hurting their ability to return money to shareholders. The government is considering various measures to bolster lenders' balance sheets, including cutting the minimum amount of provisions banks have to set aside to cover their bad loans.
"There's a high chance that the regulator will cut the bad-loan coverage requirement, which is too high compared with global peers," said Richard Cao, a Shenzhen-based analyst at Guotai Junan Securities Co. "Without that happening this year, the big banks will have trouble maintaining their current dividend payout level."
Draft Rules
ICBC and Bank of China's bad-loan coverage ratios by the end of last year had fallen to just above the current regulatory minimum of 150 percent even as they boosted provisions by at least 23 percent. ICBC's ratio dropped to 156 percent from 207 percent in 2014, while Bank of China's slid to 153 percent from 188 percent.
Among other steps China is considering to help clean up lenders' balance sheets, authorities are drafting rules to make it easier for banks to convert bad loans into equity stakes in debtor companies, people familiar with the matter said earlier this month. Regulators will also allow domestic banks to issue up to 50 billion yuan of bad loan-backed securities to remove soured credit from their books, other people have said.
Against the backdrop of the slowing economy, turmoil in the stock market and government measures to curb overcapacity in manufacturing, bad debt in China's banking industry jumped 51 percent last year to 1.27 trillion yuan, data from the bank regulator show.
ICBC had 179.5 billion yuan of nonperforming loans as of December, an increase of 44 percent from a year earlier. Adding so-called special-mention loans, which have yet to be declared nonperforming though future repayments are at risk, the lender's troubled lending rose to 700 billion yuan, or 4 percent of its total advances. Bank of China's nonperforming loans rose 30 percent.

Worsening asset quality is weighing on profits just as central bank interest-rate cuts to combat deflation put pressure on lending margins and the government deregulates finance to intensify competition. The People's Bank of China cut interest rates six times since November 2014 and removed a cap on deposit rates in October.
Concerns over bad loans and future dividends dragged valuations for the five largest Chinese lenders' Hong Kong shares to an average of their 0.55 times estimated book value in February, the lowest on record according to Bloomberg-compiled data. ICBC and Bank of China have lost more than 6 percent this year.
"The era of double-digit profit growth has ended and we are in a single-digit growth period now," Bank of China President Chen Siqing said at a media briefing following his company's earnings. "It's impossible for banks to maintain high profit growth amid a slowing economy and rising risks, so we are also in a new normal."
— With assistance by Jun Luo
Before it's here, it's on the Bloomberg Terminal.
LEARN MORE