Foxconn Takes Control of Sharp in Reduced Buyout
By , , and
Terry Gou wins deal after chasing electronics maker for years

Deal reduced by 100 billion from agreement a month earlier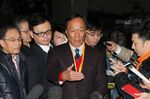 Foxconn Technology Group Chairman Terry Gou finally clinched a deal to buy Sharp Corp. after years of pursuit, bringing together the main assembler of Apple Inc.'s iPhones with the electronics maker that built Japan's first television sets.
The parent of Hon Hai Precision Industry Co. is paying 389 billion yen ($3.5 billion) for a controlling stake in Sharp, a drop of 100 billion yen from an agreement forged a month ago. As a result, Foxconn and its affiliates will get 66 percent of the Japanese company for 88 yen per share, both companies said in statements on Wednesday. 

"Finally, it's decided," said Hideki Yasuda, an analyst at Ace Research Institute in Tokyo. "This is positive for Sharp, although it's hard to imagine that Foxconn won't have to keep providing funds."
The deal's consummation caps weeks of drama, when the acquisition repeatedly looked like it could fall apart. Gou had appeared on the verge of grasping his prize a month ago, when Sharp's board chose Foxconn over a rival bid from the state-backed Innovation Network Corp. of Japan. But after learning about liabilities at Sharp, Gou pushed back the final agreement to negotiate a lower price.
Long Pursuit

Foxconn's total payment will probably increase. Under the agreement a month ago, the company had said it would spend an additional 100 billion yen to acquire preferred stock from Sharp's main banks. Neither side discussed that transaction in Wednesday's announcements. People familiar with the matter said last week that Foxconn would buy the shares, but delay payment. Toyodo Uemura, a spokesman for Sharp, declined to comment.
The agreement also includes a new clause giving Foxconn a backup plan that would let it buy Sharp's display business if the deal falls apart anytime before Oct. 5. If that happens, Sharp will give Foxconn, or a third party designated by Foxconn, exclusive negotiation rights for three months to buy the unit.
Two of Sharp's 13 directors voted against the revised agreement, an unusual sign of protest in consensus-driven Japan. The previous deal had won unanimous board support.
True Potential
Gou is seeking to broaden Foxconn's remit, transforming the contract manufacturer into a company that will not only make key components and assemble devices, but also sell electronics products to consumers. The billionaire's pursuit of Sharp stretches back to 2012, when he offered to buy shares at 550 yen apiece in a deal that was never completed.
"We have much that we want to achieve and I am confident that we will unlock Sharp's true potential and together reach great heights," Gou said in the statement.
Sharp also said after the market's close that it expects an operating loss of 170 billion yen for the fiscal year ending on Thursday, reversing an earlier forecast for a profit of 10 billion yen. Sharp said its main banks, Mizuho Financial Group and Mitsubishi UFJ Financial Group, agreed to extend their deadline for the payment of 510 billion yen in loans and credit lines by a month. Sharp's stock rose 3.9 percent to 135 yen in Tokyo trading. 
The sale of an iconic Japanese brand to a foreign company is rare in a country where struggling businesses have long been able to rely on the government and banks for support. INCJ was considered the frontrunner to take control of Sharp as the rescue process began. But Gou refused to back down. He flew to Japan repeatedly and met with government officials, Sharp's board and its banks to press his case. The effort paid off.
"Dealmakers and activists will look long and hard at Foxconn's tactics," said Michael Cucek, a political science professor at Temple University's Japan campus. "They will adjust their expectations about future acquisitions of distressed Japanese tech companies."