Europe Stocks Lose Lead Over U.S. in Worst Quarter Since '03
By
Stoxx 600 down 7.7 percent this quarter amid fund withdrawals

European index has been trading in tight range after rebound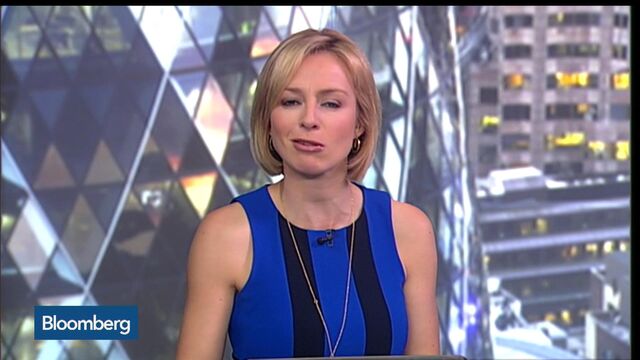 The tables have turned on Europe's stocks.
After beating U.S. equities last year by the most in a decade, now they're trailing by the most since 2003. While the Standard & Poor's 500 Index has managed to erase its annual drop in a little more than a month, the rebound in the Stoxx Europe 600 Index has done far less. The gauge completed a quarterly loss of 7.7 percent, with all but one of its industry groups in the red.
The European rebound has hit a wall in the past two weeks after the Stoxx 600 recouped about half its 2016 losses. Despite increased European Central Bank stimulus, confidence in the region's economy is at a 13-month low, and analysts, who projected corporate profit growth at the start of the year, are now calling for declines. By contrast, resilient economic data, rising oil prices and a falling dollar have helped restore faith in U.S. equities after their worst-ever start to a year.
"I frankly didn't understand the preference for Europe," said Kully Samra, a London-based client manager at Charles Schwab Corp., which has $2.4 trillion in client assets. "The rally was being driven by central-bank action, but you're not getting fundamental growth. This quarter clearly showed that you can't just rely on monetary policy. I would expect Europe's underperformance to continue."

Banks have been the year's biggest losers in Europe this year -- posting their worst quarter since 2011 -- on concern that negative interest rates are backfiring and eating up what little is left of their profitability. More than a third of Stoxx 600 lenders have dropped at least 20 percent in 2016, with Credit Suisse Group AG and Deutsche Bank AG hitting record lows in February. In the U.S., a gauge of financial firms has lost less than a third.
Even defensive companies failed to provide a haven in Europe, with health-care stocks wrapping up their biggest quarterly slide in eight years. That put the Stoxx 600's two biggest industry groups among its worst performers. And with the euro enjoying its best quarter against the dollar since 2011, the currency advantage for exporters has shifted back across the Atlantic: European carmakers have lost 11 percent in 2016.
The upside of the rout is that valuations for the Stoxx 600 are still below their average for the past year. European stocks trade at about 15 times projected earnings, a discount of almost 11 percent to their U.S. peers. And if history is any guide, the next quarter looks promising -- the Stoxx 600 has bounced back from every quarterly drop but one since the height of the sovereign debt crisis in 2011.
Morgan Stanley says attractive valuations matter little at a time of low investor confidence, fund outflows and shrinking profits. The bank, which favors U.S. stocks over Europe, predicts no gains for the region's equities in the next 12 months and says earnings will probably drop 5 percent in 2016, while analysts project profit at S&P 500 members will climb 2.8 percent.
"We remain relatively cautious as we feel that lower share prices are justified by a deterioration in the macro backdrop," Graham Secker, Morgan Stanley's head of European equity strategy in London, wrote in a note dated March 13. "Valuations are too high given the backdrop of weaker economic and profit growth and an elevated risk profile."